Jacob Schwarzschild
In Frankfurt, in Frankfurt, if you can't be as rich as the Rothschilds, You can always hope to be as rich as the Schwarzschilds. (Children's song, cited in Thomas Harding, "Hanns and Rudolf: The German Jew and the Hunt for the Kommandant of Auschwitz", Windmill Books 2014, p21)
My great-grandfather Jacob Isaac Schwarzschild (1854-1929) came from a well-known family in Frankfurt am Main which can be traced back to the 15th century. Originally the family name was Wohl, until Liebmann Wohl (who died 1587) adopted the additional name zum schwarzen Schild. Jacob's father was Isaac Jacob Schwarzschild (1819-1900).
Jacob had two brothers, both of whom lived and died in Frankfurt: Michael Isaac (1855-1939) and Alfred Isaac (1858-1936). But Jacob's uncle Amschel (1815-1896) - brother of his father Isaac - moved to England and in 1847 aged 32 married Abigail Messeena, aged 18, who had been born in Poplar, Middlesex, in 1829; the marriage was conducted by the Chief Rabbi. The 1852 Post Office Directory contains a listing for Amschel Schwarzschild & Co, fur merchants, at 26 Lombard Street (City of London). Amschel and Abigail lived at 21 Mildmay Park, Islington. In 1872 Mrs Abigail Schwarzschild put a notice in the Jewish Chronicle on the death of her "beloved uncle" Rowland Messeena; and in 1876 she placed a notice for her "dearly lamented mother" Rachel Messeena (aged 91), mentioning her father, Dr Messeena.
When Jacob Schwarzschild came to England he stayed with his uncle Amschel and aunt Abigail in Islington for at least 10 years. He is recorded there at both the census of 1871 (when he was aged 17, and his uncle was a commission merchant aged 55) and 1881 when Jacob was aged 27 and a stock broker at 28 Throgmorton Street (City of London).
Amschel and Abigail Schwarzschild later moved to another house in the same street: 33 Mildmay Park, Islington. Amschel died there in 1896, and Abigail in 1911.
In 1881 Jacob Schwarzschild married my great-grandmother Adela Marsden. After their marriage Jacob and Adela lived at 62 Pembridge Villas, Bayswater, and my grandmother Evelina was born there in 1883. By 1899 Jacob Schwarzschild and family were living at 58 Pembridge Villas; this photo of the property was taken by Keith Mayer in December 2013.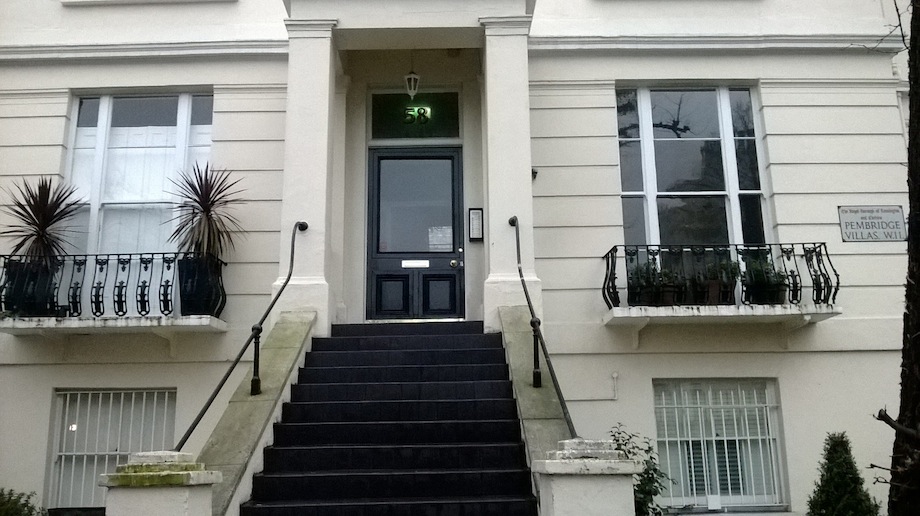 In February 1901, just before Evelina's 18th birthday and while she was away from London on holiday, the funeral of Queen Victoria took place. Jacob wrote the letter reproduced below: "My dear Evelina, According to promise I send you a few lines & trust that you are spending a pleasant time & are benefitting by the change. - I went early yesterday morning with the Boys to Sussex Gardens to see the Funeral & Percy saw it best, because he was on Albert's back & had therefore the best view…. - With love & many kisses I remain your loving… Father." And Evelina's brother Albert (aged 15) wrote: "Dear Evelina, I hope this letter will reach you to find you in good health & in the midst of enjoyments. I am sorry that I cannot tell you anything about the procession, as I did not see anything, but anyhow I can say 'I was there' ….Yesterday Ella served in the streets, near Buckingham Palace, as a nurse… I must now say Adieu. So with best love & kisses,… Albert… Excuse writing in haste."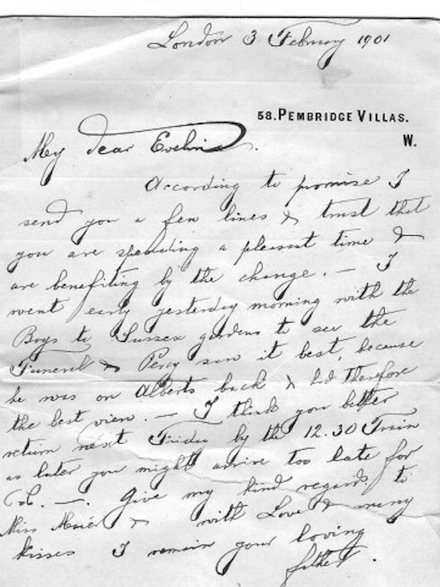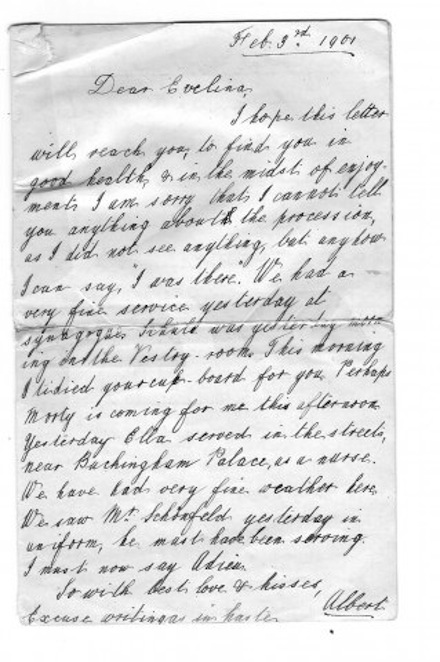 Jacob Schwarzschild died in January 1929, leaving an estate of £62,479, equivalent to £2.7 million today (February 2015). Buried at Willesden. This obituary was published in the Jewish Chronicle on 1st February 1929: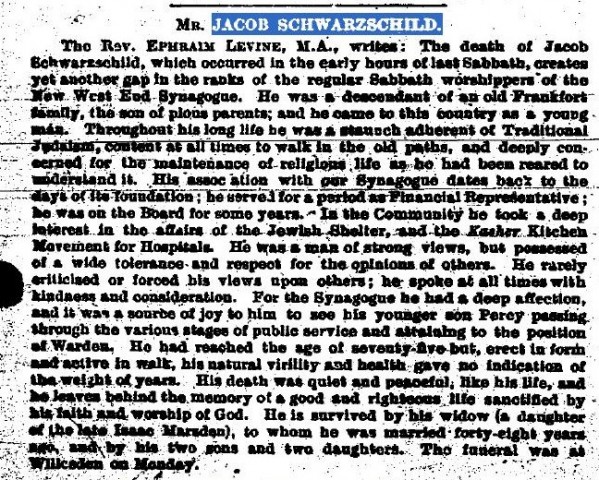 Jacob's father-in-law, Isaac Marsden, had also been involved in the foundation of the New West End Synagogue in Bayswater, which opened in 1879: his £200 in 1875 was one of the larger contributions (Doreen Berger, "The Jewish Victorian 1871-1880", page 380).

The Hackenbrochs, the Philipps (and Sigmund Freud)
Alfred Isaac Schwarzschild (1858-1936), one of the brothers of Jacob Schwarzschild, married Recha Goldschmidt, daughter of the eminent art dealer and philanthropist Selig Meier Goldschmidt, and they had two sons and a daughter. One of their sons, Robert, was born in 1886 and died in 1909 aged 22. The other son, Jacob Alfred, born in 1885, was twice married in Frankfurt and his son Robert Boris was born there in 1921; Jacob later moved to London where he died in 1978, aged 93. Jacob's son emigrated to Canada where he changed his name to Robert Boris Shields; he died in 2014, aged 92. (Thanks to David Prins and Sonya Shields for information posted on geni.com.)
The daughter of Alfred Isaac Schwarzschild and Recha Goldschmidt, Clementine, was born in Frankfurt in 1888 and married Zecharias Max Hackenbroch, who like her grandfather Selig Meier Goldschmidt was an art dealer; he was born in Frankfurt in 1884 and died there in 1937 aged 53. Clementine Hackenbroch moved to London with her three daughters: Lucie Ruth (born 1910), Yvonne Alix (1912), and Irene (born 1918).
In 1939, in London, Lucie Ruth Hackenbroch met and - five weeks later - married Elliot Philipp; their marriage lasted until Lucie's death in 1988. Elliot Philipp died in 2010 at the age of 95; he was a gynaecologist and obstetrician who worked with Patrick Steptoe and Robert Edwards on the development of in vitro fertilisation, and also wrote several popular books, including The Technique of Sex (1939), on which he was helped by an ailing Sigmund Freud, his cousin by marriage (obituary in the Daily Telegraph). His connection with the Freud family is covered in more detail in this interview.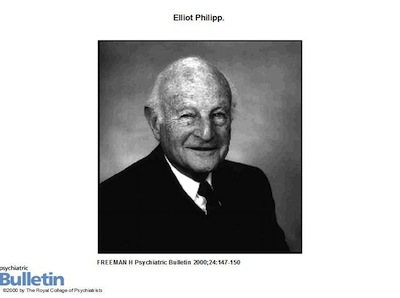 Clementine's other daughter was Dr Yvonne Hackenbroch (1912-2012), an eminent art historian who also found refuge in London and lived to be 100 years old.
Clementine Hackenbroch and her daughters accepted their invitation to Nora's wedding reception in June 1940. Nora spoke about this family connection.
There were one or two relations, a very nice cousin my mother had, who came from Germany. She was married, and her name was Clementine Hackenbroch. She managed to get out, I think her husband had died, he was in the antique business. She was all right for money, because when she came out of Germany she was very astute and she brought with her quite a lot of antiques which you could carry. She lived not too far from Auntie Ruth, my sister Ruth, she had a flat. She had three daughters, and one of them - Lucie - was married to a doctor, Elliot Philipp, and Ruth still sees him. She saw him recently, she went to some meeting and he was there, but Clementine Hackenbroch was a very nice lady, very smart, and I always remember, she bought the most expensive clothes, the most expensive everything, except her hats, which she bought from, I think it was British Home Stores. You could take her anywhere, she was very smart, and a very nice lady.
Clementine died in London in 1984 at the age of 95.
I mentioned earlier that Clementine's art dealer husband Zecharias Max Hackenbroch died in Frankfurt in 1937, aged 53. In 1935 he was part of a consortium which, under duress, sold at a fraction of their value the Guelph collection, a trove of medieval Christian art, to the Nazi leader Hermann Goering, who presented the works as a gift to Hitler.
In 2015 Alan Philipp (son of Elliot Philipp and Lucie Hackenbroch) was part of a group of heirs of the 1935 consortium which brought a case in an American court after their efforts to recover the works were turned down in Germany. In July 2018 a US Appeals Court ruled that the case can go to trial. Disturbingly, however, the defendants in the case, the Prussian Cultural Foundation (SPK) argue that "the Guelph Treasure's sale more than 80 years ago was not a forced sale due to Nazi persecution."
The Scharzschilds and the holocaust
The other brother of Jacob Schwarzschild was Michael Isaac (1855-1939). He married Sophie Cramer and they had three children: Lina (born 1886), Adolf (1887), and Recha (1889). Adolf emigrated to the USA, and Recha to Palestine/Israel.
Lina Schwarzschild married Dr. med. Salomon "Sally" Rosenbaum, who like his father Dr. Eliezer Rosenbaum (1850-1922), was Chief Physician at the Georgine Sara Rothschild Foundation Hospital. Both Lina Schwarzschild and her husband Dr. Sally Rosenbaum were deported to the Lodz Ghetto in Poland where they died in 1941 and 1943.
Nora recalled her mother Evelina talking about the treatment of Jews who had remained in Frankfurt.
My mother's father, Jacob Schwarzschild, they came from Frankfurt, in Germany, and some of them were involved in the Nazi business, it was awful…. Mother used to tell us about this doctor, a surgeon. He was in a hospital, operating, and these Nazis came in and they took him away from the operation, and another doctor had to carry on. They marched him through the streets, and when they passed dog's mess, they said 'bend down and eat that, you're only fit to eat like a dog'. And he was a surgeon, he was still in his operating gown. That's how they treated them.
Page last updated 9 Oct 2020.