Zelig Zacharewitsch
(1849-1920, father of David Sisserman)
Zelig's parents were Jacob (Yaakov) and Gittel Zisserman, though on Zelig's British naturalisation document of October 1913 his mother's name is recorded as Helena Zisserman.
---
Zelig had a brother Zeskin Sisserman: this information is from John Spritz:
Zeskin (or Susskind) was apparently born c. 1850, in Ostrog. He was a flautist who came from a prominent family of musicians. His uncle and brother had been the concertmeister for the Russian Czar and the Army. From a first marriage, Zeskin had a son, Hersh (Americanized to Harry), born c. 1880, also in Ostrog. Zeskin married again, to Sarah Shpritz c. 1882. They had 5 children between then and 1900. In 1902, Zeskin, Harry, Sarah, and their 5 children emigrated to Ellis Island, thence to Philadelphia. On the ship's manifest Zeskin and Harry, his eldest son, are described as "musician." The family lived in Philadelphia where Zeskin gave flute lessons circa 1910-1914. Zeskin died in December of 1914. His descendents today live mostly in the Philadelphia area and up and down the East Coast.

Zeskin's second wife Sarah Shpritz had a brother Usher Shpritz, the great-grandfather of John Spritz. In 1913 Usher emigrated to the U.S with two of his sons, one of whom was the grandfather of John Spritz. The father and two sons stayed with Zeskin and Sarah in their tenement house in Philadelphia for about a year. In 1914 Usher returned to Russia (and Zeskin died later that year), but Usher's two sons remained in the U.S.A.
---
Zelig Sisserman (father of David, and my great-grandfather) was the elder brother of Zeskin and was born in Ostrog in March 1849. His full name Schelich Jacobwlew Sisserman Zacharewitsch appears on the marriage certificate of Michael Zacharewitsch. Zelig married Jente Drucker and they had four children: the violinist Michael Zacharewitsch (1876 - 1953), violinist Asriel Sisserman AKA Gregory Ivanoff (1883 -1965), David Sisserman (1886 - 1958), and Sonya Chamina ( 1894 - 1996) who was a singer and died in New York in 1996 at the age of 101. Gregory Ivanoff's marriage certificate records his parents as Zachariah - that is Zelig - Sisserman and "Lenta Sisserman nee Drocker", which perhaps should be Jente Drucker.
According to Raichka, there was another daughter, elder to Sonya, who - as well as Zelig's wife - had died by the time the rest of the family emigrated from Russia. But there is no verification about this other daughter.
Photo dated 1904, Russia. Left to right: Zelig aged 56, (probably) Gregory Ivanoff, Sonya aged about 8, and Zelig's wife Jente.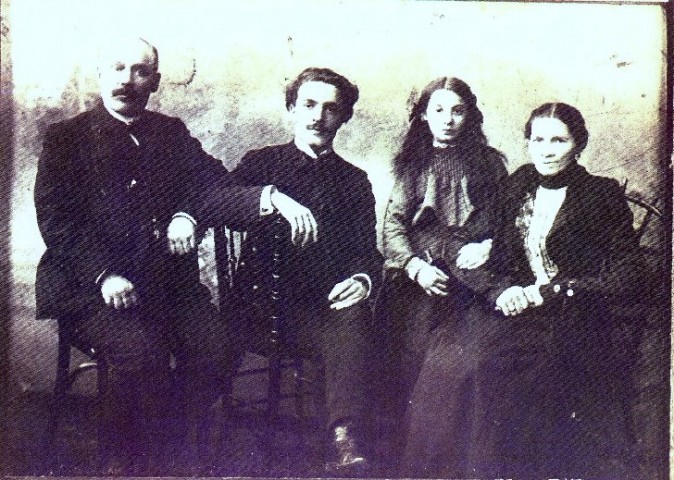 Soon after this photograph was taken Jente died (referred to in a letter from Michael, written 16th November 1904 in Hampstead, London). In 1905 Zelig came to England with Sonya. They lived in Canterbury, Kent, and by autumn 1906 Sonya was a pupil at Simon Langton School for Girls.
Zelig's brochure, probably published towards the end of 1909, gives his address as 1 Orchard Street Canterbury; the testimonials show that he was teaching private pupils and also at several schools in Canterbury (St. Brelade's, Froebelheim, Roper House, and St. Mary's). One testimonial, dated October 1909, says "Mr Zacharewitsch has been teaching my daughter for nearly four years" - indicating that Zelig and Sonya were living in Canterbury by autumn 1905.
Front cover of 1909 brochure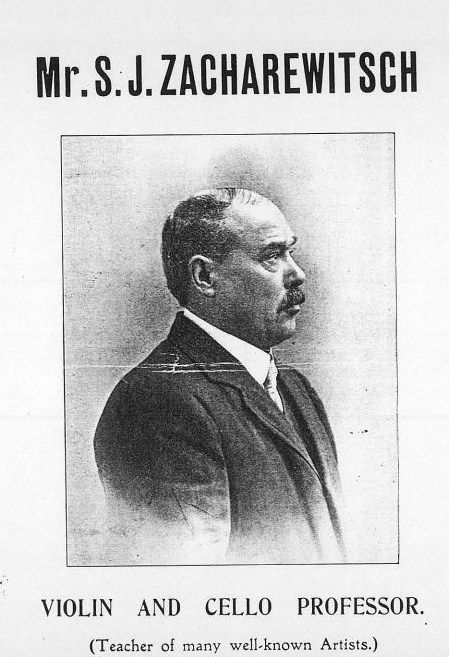 At the time of the 1911 census Zelig and Sonya were living at 71 Broad Street, Canterbury; Sonya ("Zonya") was then 17 and a student, Zelig ("Zachar") was 62, a widower, "Professor of Music" but working "on own account". They were lodgers in the home of Alexander Williams, plumber.
While living at the same address in Canterbury, in October 1913 Zelig was naturalized as a British citizen. His name is recorded as "Zaelick Zisserman known as Zaelick Zacharewitsch" and his date of birth as 3rd March 1849.
By the time Sonya married in 1915 she and Zelig were living in London.
1916 photo of Zelig (aged 68) and Sonya (22) in England. Zelig's headstone; the Hebrew begins "Zelig son of Yaakov"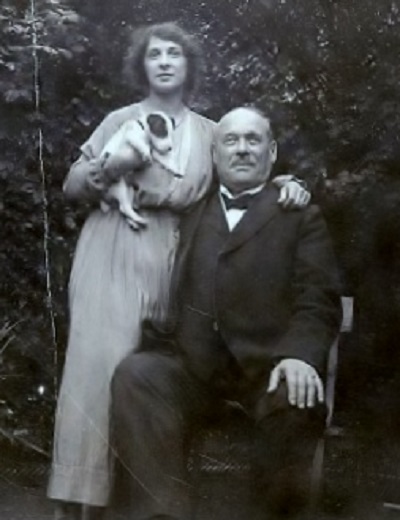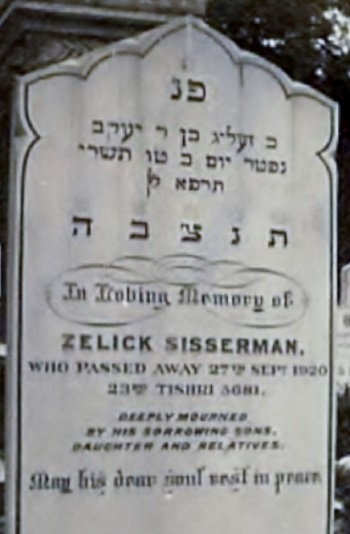 Zelig died in Paddington, London, on 27th September 1920, aged 72. A few of the letters he wrote to his daughter Sonya between 1917 and 1920, were preserved by her until her own death in 1996. Here are some extracts:
18th July 1917
My dear daughter and son-in-law, I received your letter in the best of health hoping this finds you the same. I am surprised at you for wanting to come to England, I do not understand the meaning of it. In some letters you make me happy and in some you make me miserable, it seems as if you are not happy there, write me what you want to come to England for. I hope some day to see you in Russia where we will be very happy together. All my thoughts are of you, when the war is over I will bring you a box full of boots. I don't hear anything of David [Sisserman] … Thank G. I do not want his assistance after all Michael [Zacharewitsch] is the best, though his assistance is very small but a little is better than nothing. I pray to G. to be together with you after the horrible war, no matter which country it is, in your next letters don't mention the baby, I have enough when I go to enquire about the flowers. I have nothing now to write, so I will close with my best love to you and Yasha [husband James Merkel] and all your friends, your best friends. From your loving and miserable father. P.S. If you see David give him my regards, I hope when he is 70 years old he will still be playing the cello with the same success as I play.
24th September 1917
26 Coram Street, Russell Square, W.C. I received 2 letters from you, the last letter that you wrote me about David and Gracia [George?], I was very pleased to get the information concerning them. Though I have not received any assistance from them. I played eight months at the Corner House. and I get the sack because I am old, not because I played badly but on account of age, and I am very tired and wish to nurse my feet before the winter comes. We had an air raid last night, several bombs were dropped and caused a great deal of damage and this morning I am very nervous and worried, you can imagine, and so very often I feel glad that you are not in London, we all suffer terribly. I shall send you a telegram later on. Please give my kind regards to Gracia [George?] or his mother when you see them. Michael gives me also some assistance. Kind regards to … Yasha, yours affectionately, your poor father.
19th October 1917
26 Coram Street, Russell Square, W.C.I. My dear daughter …. Now you are 23. I am still alive, I have no regular place … Kind love to you all from your loving Father.
22nd November 1919
Flat 1, 136 Portsdown Road, Maida Vale, London, W.9, England. My dearest daughter and Yasha, You cannot tell how happy I am after having just received your letter of the 28th August 1919. I was worried very much at not having heard from you before, because the last letter from you, dated 26th July last, addressed to Coram St, I answered the same day as I received it. My answer was a typewritten registered letter and I have been terribly worried because I have not received any answer.

You want to know how I am. Well I live with Michael and I teach his son, Jackie [Joseph Saxby], the violin. Joan [Saxby, wife of Michael Zacharewitsch] is away in France and we do not know whether she will ever come back. I cannot write as much as I would like to because it would take much too much paper and time. However if I have an answer to this letter from you I shall write you a much longer letter with more details. Do not forget, my dear Sonya, that I am alone in the world, and my only pleasure is when I receive a letter from you. That is the only thing that keeps me alive. You wish to know about my health. Well, Sonya dear, I must be quite candid. I have aged terribly and my health is very bad indeed with my old operations. I live with Michael and he travels about and I have not a single person to take care of me. Now I have the return of my old complaint and the doctors have advised me to go into the hospital, so you can just picture the position I am in. So, I must repeat again that it is only your letters that keep me alive. Therefore, please write every week, do not wait for my answers …. so that I will hear more often. As it is, I am afraid I will never see you again, also Grisha [Gregory Ivanoff]. Believe me, it is the dearest wish, in spite of everything, that I should be able to see you again. Anyway, write very very often to me, and write me also about Grisha. It is true, I am living with Michael but I still have plenty of expense. As you know Michael's character, I cannot go to him for every single thing.
I have made a will, in case anything happens, and would like you to know that I have left you all a little money, in which at present your share is £100 and Grisha also £100. I do wish I get stronger as I should dearly love to see you again. In March I shall be 72 years of age. It is 2 years since I have heard from Grisha. I cannot understand why I do not hear from him.

I want to hear from you very often and let me know all the news concerning yourself, Yasha and Grisha. Michael is rich and living very well and is a great artist, but I give nothing for all his goods and wealth and "happiness", as his life is a miserable one. I am enclosing the receipt of the last registered letter I sent you and which you apparently did not receive.

I think I have written enough for now and am awaiting your answer by return. With much love to you both and Grisha and Olga [Lavroff, Gregory's first wife].
Your loving father, Z. Zacharewitsch. xxxxxx
Then this note from Annie Weinstein
We are friends of your father and he comes into our house, and I am writing this on his behalf. I therefore write, from myself, begging you to write often because there is not a day passes but that he cries about you and longs for your letters. He always talks about his love for you. I shall always answer your letters promptly for your father, because it is a pleasure for us to see his joy on hearing from you. As regards his health, he is very, very poorly. We cheer him up as much as possible. Yours sincerely, Annie Weinstein, 34 Gt. Windmill St, Piccadilly, London.
28th March 1920
Letterhead: H. Weinstein, manufacturer of High Class Cirarettes and Importer of Havana Cigars; Hairdressing Saloon. 34 Great Windmill Street, Piccadilly Circus, London, W. P.S. Answer this letter to the address printed.

My Dearest Sonya and Yasha, I thank you very much for your letters of Feb 3rd and Feb 8th just to hand. (A week to Passover). I am happy to hear that you are quite well. I do not feel well at all. It is only 5 weeks since I am out of the hospital and it is absolutely impossible for me to go to Tientsin [China, where Sonya is now living]. If though, as you say in your other letter, you go to Moscow, I should love to come there to see you, if all goes well with me.

I sent you in a previous letter £1 and my photograph but I have not received any answer. Have you received the same? I have received a letter from Grisha and was more than pleased to hear from him. I sent you the above address to which all future letters to me were to be sent and you sent your letter to Michael's address. Please do not do so in future because I do not live with him. He turned me out, because he said that Joan [Saxby, his wife] left him through me.

I am not earning anything and am spending a good deal because the cost of living is so great. Michael says he will not give me anything until I have spent all my money. I am looking forward to seeing the man you wrote me of. My love to you both and hoping to hear from you very soon. Your loving father, Z. Zacharewitsch. xxxx
Then this note from Annie Weinstein
My dear Mrs Merkel, Thank you very much indeed for your sweet little note. I am only too happy to write your father's letters to you as he is so very happy when he hears from you. Wishing you and your husband the best of luck in your business, etc. Believe me, Very Sincerely Yours, Annie Weinstein.
7th May 1920
Flat 1, 136 Portsdown Road, Maida Vale, London, W.9, England. My dear daughter Sonya, Many many thanks for your letter, which I received this morning. You suggest that I should come to you in China, but I could not come now, I am not so strong as I was, in fact you would not recognise me now. I did not have an operation while I was at the Hospital, because the Doctors tell me I cannot be cured, I shall always be the same, but still I am glad to tell you I feel a little better than I did.

As you see by this I have come back here [Michael's address] to live, as I find I cannot live with strangers, they would not help me if I was taken ill, and I should be all alone. Grisha [Gregory Ivanoff] writes saying he will come here in July, if so perhaps I shall have a letter home. He has sent me money every month since I have been in Hospital, and since Grisha is the one son in my family.

I teach Jack the violin, he has talent, but nothing is settled about Joan and Michael, in July she will either come back, or go away for good.

I am glad you received my present and photo at Xmas, I will have another taken and will send you. Michael is not here, or Joan, but they would send their regards I know. Give my regards to Yasha. Z. Zacharewitsch.
Letter from Annie Weinstein, 15th October 1920
Dear Mrs Merkel, I cannot tell you with what sorrow I have to write you of the death of your dear father. I suppose you have already heard of it from your brother. I went to see him with Mama a day before he died. He was quite conscious until practically the end. I may say that your brother did all in his power for him as regards medical attention and nursing, but of course he was a good age and the Doctor told Papa that had it not been for his strong constitution he would not have lasted as long as he did.

Before he died, he told my parents that the £100 he left you, he wishes to be for your personal benefit. Your brother (Michael) is proving the will and will send you your money on as soon as it is in order.

I am ever so sorry to have to be the writer of such bad news but nevertheless, my dear Mrs Merkel, I promised your father when I saw him last that I would write you, so I hope you will cheer up and remember that he is now out of pain. Your brother was speaking to Mama today and gave her to understand that if at any time you were in any difficulty he would always do his utmost to help you if you let him know. However, I sincerely hope that you and your husband will always enjoy good health and the best of luck and so never have to write about such matters.

Your dear father (God rest his soul) spoke until the very last and I am so glad to know that I saw him before the end and so could write and let you know about him. Whenever you have a few spare moments, dear friend, I should always like to hear from you in order to know how you are getting on and perhaps one day (if you ever come on a visit to London) I may have the pleasure of meeting you personally.

I must again assure you that your brother did everything in his power for your father and did not leave a thing undone that could relieve him, so I hope you will not worry yourself thinking that anything was not done for him. Wishing you and your husband every happiness and long life. Believe me, dear Mrs Merkel, In all sincerity, Annie Weinstein.
---
In 2008 the following was auctioned: Three photos of Michael Zacharewitsch, one which is addressed - To my "only" Sonya, from her brother Michael.
Sonya, being Sonya Chamina, a Russian Singer. This collection of photos belonged to Sonya Chamina. One is one photo of Michael Zacharewitsch with a woman - it is probably Sonya. Also included is a printed brochure for Mr. S.J. Zacharewitsch, Violin and Cello Professor (Teacher of many well-known Artists) - father of Michael Zacharewitsch.
---
Thanks to Peter Ivanoff, Guy Fairstein and John Spritz for copies of photos, letters, etc from the estate of Sonya Chamina.
Page last updated 19 Jun 2020.