Marsdens in France
Among the 5 children of Isaac Moses Marsden and his first wife Rachel Hyam was Maurice Isaac (born 1832).
Among the 14 children of Isaac Marsden's second marriage to Esther Gomes Silva were Madeline (born 1846), Edith Josephine (1850), Georgina Hester (1851), and Constance Rebecca (1852).
Isaac's sister Sarah and her husband Meyer Meyer had 14 children, cousins to those of the Marsdens: among these were Emily Meyer (born 1849) and Leopold Charles David Meyer (1855).
In 1867 Emily Meyer (daughter of Isaac's sister Sarah and Meyer Meyer, aged 18) married Joseph Lyon Jacobs (aged 29). They lived in Hull, England, where Jacobs was a solicitor. According to Michael Sayers the city of Hull was the original connection between the Meyer and Jacobs families - Meyer Meyer had lived there before his marriage to Sarah in 1841.
The Marsdens' French connection began in 1867, the year of the World Exhibition in Paris - which Isaac's wife Esther attended (see her photo here). In that year Madeline Marsden (aged 21) married Salomon Fallek (aged 30), a diamond merchant, and Maurice Marsden (aged 35) married Salomon's sister Amelia Fallek, a widow aged 23. The Fallek parents, Ber and Lea, came from Pest, Hungary, where Salomon had been born in 1837. Amelia was the Falleks' eldest daughter: she was born in 1843 in Krakow (then in the Austro-Hungarian Empire), but the Falleks were in Pest when their other children were born between 1851 and 1855. Salomon first arrived in London from France in January 1859.
Salomon Fallek and Madeline Marsden/Fallek lived initially in Kensington, London, where their first two children were born: Hermine Esther in 1868 and Alphonse Hirsch in 1869. Their third child Ernest Abraham was born in 1870 in Paris, but they returned to London during the Franco-Prussian War of 1870-1. They were recorded in the 1871 census at 43 Queensborough Terrace, Bayswater, when the household included Salomon's mother Lea, aged 55, born in Pest, and his sisters Anna (aged 22) and Henriette (15). The Fallek household also included five servants including an 18-year-old nurse, born in Kingston, Jamaica, whose name is recorded simply as "Galliard", and two from Germany. The Falleks later returned to Paris and lived at 22 Rue de Lisbonne.
In 1873 Georgina Hester Marsden (aged 22) married Charles Lang, who was born in 1843 at Durmenach, Alsace. The father of Charles, "Meyer dit Emanuel Lang", was one of the founders of a family firm of textile manufacturers. After the war of 1870-1, when Alsace was annexed by Germany, the company had relocated to Nancy, and it was in Nancy that Georgina Hester and Charles Lang lived (at 9 rue Ste. Catherine). They had three children: Mathilde (1875-1965, married Paul Aron), Rose (married name José), and Henri Emmanuel (1881–1967). Henri Lang, like his father Charles, lived in Nancy and in 1905 had a significant Art Nouveau house built.
Georgina Hester Marsden/Lang was still alive in 1921 (aged 70) as she is mentioned then in a financial statement on the Estate of Isaac Marsden. Charles Lang died in 1924.
From 1888 other members of the Lang family resumed textile production in Alsace, and the company Les Fils d'Emanuel Lang is still in existence.
In 1875 Edith Josephine Marsden (aged 24) married Henri Ettinghausen at the Marsden residence in Kensington. Henri (Heinrich) Ettinghausen (1842-1902) and his brothers Sigismond (1838-1918) and Maurice (Moses) (1839-1899) came from Hoecht, near Frankfurt, Germany: they all moved to Paris in 1863-4 in anticipation of the annexation of Hoecht by Prussia. ("La Famille Ettinghausen" , Génealo-J, No.122, Paris, 2015, pp. 2-23, by Pierre-André Meyer, great-grandson of Sigismond Ettinghausen.)
The Ettinghausen brothers, like the Falleks, were diamond merchants: indeed when (also in 1875) the sixth child of Madeline and Salomon Fallek, Eugénie Anna, was born, one of the witnesses to the registration of her birth was Henri Ettinghausen. (Thanks to Nigel Kahn for this information.)
In 1879 Constance Rebecca Marsden (aged 27) married Max Kiefe, who had been born in 1847 in the small German town of Baisingen, Baden-Württemberg, where the Kiefe family had been prominent for several generations.
When Meyer Meyer, the father of Emily Meyer, died in 1880, one of his executors was Emily's husband and solicitor, Joseph Lyon Jacobs; another was his son Leopold Meyer. At this time Leopold was aged 25; he and his brother Ernest (aged 27) continued to work in the Meyer family's fur manufacturing business. Both were still living with their mother Sarah in Kensington.
Right: Sarah (Moses) Meyer, mother of Emily and Leopold Meyer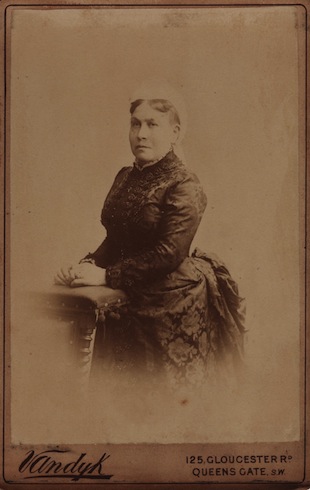 In 1880 Madeline Marsden/Fallek died aged 34 leaving six children: Hermine Esther, Alphonse Hirsch, Ernest Abraham, Hélène, Clotilde, and Eugénie Anna. Amelia Fallek and her husband Maurice Marsden, who may already have been living in Paris with Salomon and Madeline Fallek, took responsibility for the Fallek children after Madeline's death. Fifteen years later, when Esther Gomes Silva/Marsden prepared her will, she included the following: "To my dear daughter in law Amelia Marsden and her husband my son Maurice Isaac Marsden … I bequeath the sum of one hundred pounds as a token of my great affection for them and of my appreciation of the loving and affectionate care they have both for so many years bestowed on my dear grandchildren the children of my daughter Madeline".
Isaac Marsden had endowed Amelia with £4000 under the terms of her Marriage Settlement in 1867. These funds were invested in stocks of Indian Railway companies from which Amelia received interest. The trustees of the Settlement were Isaac Marsden himself, Maurice's brother Montague Montagu-Marsden, and Nathan Solomon Joseph. After the death of Isaac Marsden in 1884, two new trustees were appointed: Herbert Phillip Marsden and the stockbroker Jacob Schwarzschild who sold the Indian Railway stocks and invested in rental properties in London.
In December 1883 Joseph Lyon Jacobs, husband of Emily Meyer, died aged 46 as a result of a fall from an upper window of his home in Hull. Emily was widowed aged 34.
Constance Marsden/Kiefe c. 1887 with Victor, Félix, Edmond, Oscar and baby Marguerite. In May 1884 Esther Marsden sent this photographic portrait of herself to "dear Constance and Max" Kiefe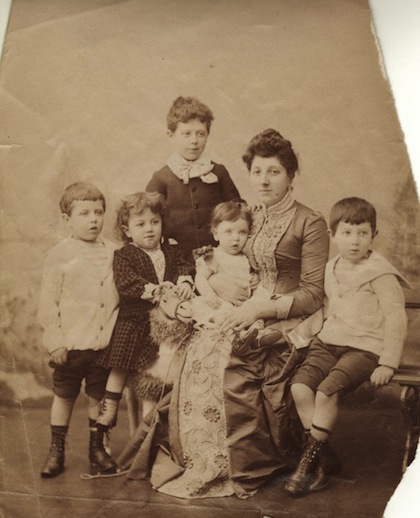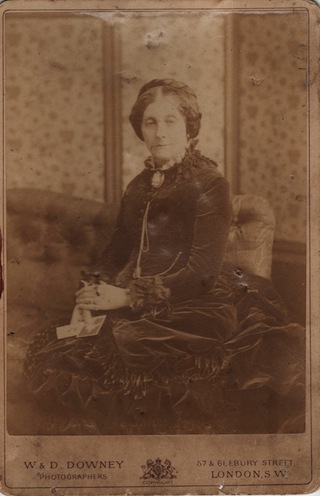 In 1885 Max Kiefe and his wife Constance were naturalised as French citizens, as was Max's younger brother and business partner Auguste Kiefe. In 1889 Constance Rebecca Marsden/Kiefe died aged 37 leaving six children: Victor (9), Félix (7), Edmond (6), Oscar (4), Marguerite (2), and Pauline (7 months). The family had lived at 20 Rue Chauchat, Paris; then Boulevard d'Andilly, Montmorency; and in 1889 at 21 Rue Desbordes Valmore, Passy, Paris.
Four years after the death of his wife Constance, in 1893 Max Kiefe married a cousin of Constance, Emily Meyer/Jacobs, in London. Emily, who had been widowed ten years before, had no children from her first marriage to Joseph Jacobs. The three elder Kiefe children (aged 13, 11, and 10) were educated in Max Kiefe's native Germany, while Emily brought up her three younger step-children in Paris. She adopted Marguerite and Pauline according to French law ("Jewish Chronicle", 5 November 1920). They lived at 51 Faubourg Poissoniere, Paris; and also at Rue Scheffer, Paris 16e (pictured in the garden).
Emily Meyer/Jacobs/Kiefe, and with her second husband Max Kiefe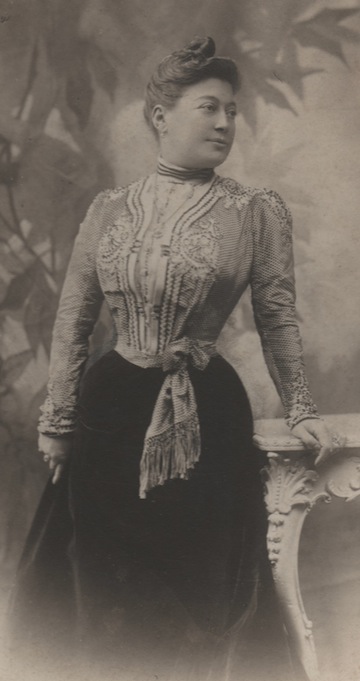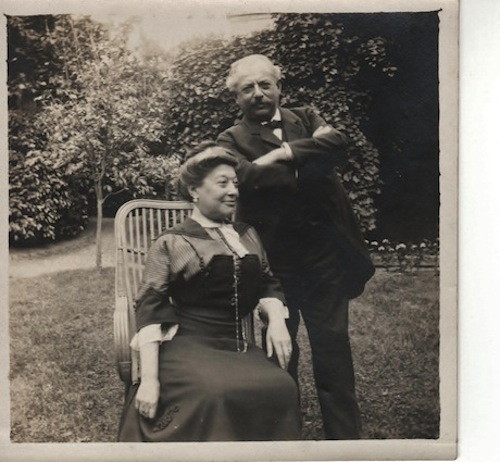 Emily Meyer/Kiefe with the Kiefe children, on holiday at the English house of her brother Leopold Meyer, Dorney House in South Buckinghamshire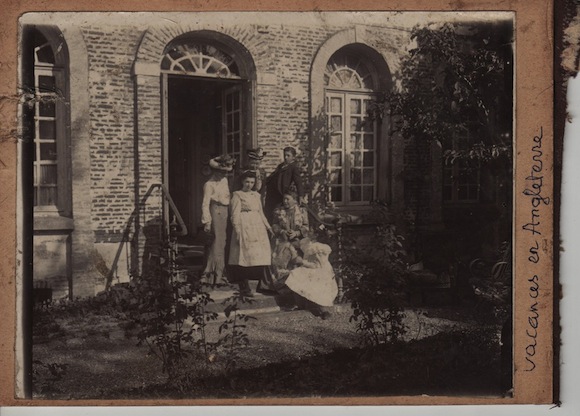 Edith Josephine Marsden/Ettinghausen and her husband Henri had 6 children: Herbert (1875-1930), Emma Rosa (1877-1943), Alfred Elias (1878-1902 aged 24), Hélène (1880-1942), Béatrice (1881-1951) and Alice Mina "Lily" (1884-1960). In 1898 Emma Rosa married David Hamburger, of Utrecht in the Netherlands; their children were Cécile (1899-1980), Isabelle (1900-1980, married Stora) and Olga. In 1899 Béatrice married Isaak Hamburger (brother of David); their children were Maurice (1900-1978) and Georgette (1902-1952).
In 1898 Hélène Ettinghausen (aged 18) married Leopold Meyer (aged 43), son of Isaac Marsden's sister Sarah and brother of Emily Meyer: he was his wife Hélène's second cousin once removed. Leopold was known in his French family as "Oncle Lee".
At the time of the census on 31 March 1901, Leopold and Hélène lived at Rose Hill, Burnham, Eton district, near to Dorney House where the holiday pictures were taken. Leopold, aged 45, was listed not as a fur manufacturer but "living on own means". Hélène was aged 21 and they had a 9-month old son, Henry. They also had an English cook and housemaid; an Irish nurse for the baby; and a German butler by the name of Hermann Gohring!

Hélène Ettinghausen and her husband Leopold C.D. Meyer (brother of Emily Meyer/Jacobs/Kiefe)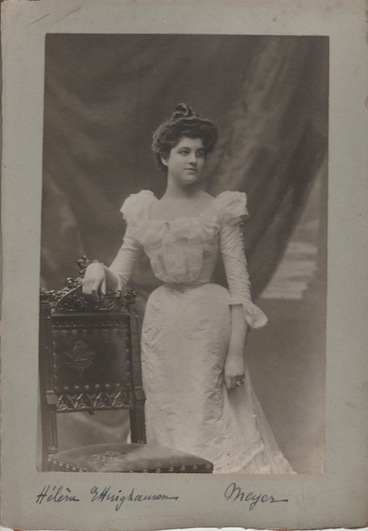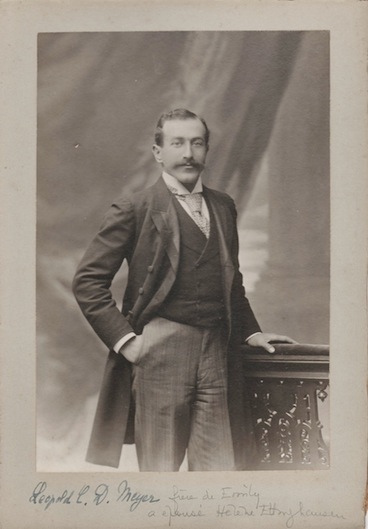 In 1901 Hélène had a second son, Guy. The following year her father Henri Ettinghausen died. Then in 1904, only six years after their marriage, Leopold Meyer died in London aged 49 and Hélène became a widow at the age of 24.

The executors of the will of Leopold Meyer included his cousin Stephen Leopold Marsden; his brother Ernest Meyer (born 1853) - partner in the Meyer fur business - whose wife Agnes Hannah Hyam was a daughter of Samuel Hyam and Phoebe Levy; and Robert Halford - born Abraham Levy Hyam, brother of Agnes Hannah Hyam and husband of Leopold's sister Annie Flora Meyer (born 1857). Samuel Hyam was a brother of Isaac Marsden's first wife Rachel Hyam, so Robert Halford was a first cousin of Maurice Marsden.
Hélène's brother Herbert Ettinghausen (1875-1930) married Andrée Sachs in 1905 and their son Maurice was born in 1906. In the summer of 1911 Maurice's mother took him to a seaside resort, and on their return to Paris (66 Rue de Lisbonne) discovered that Herbert had sold the living-room furniture to settle his debts. Andrée demanded a divorce, Herbert moved out and Maurice had no further contact with his father or the Ettinghausen family; he soon adopted his mother's surname and was known as Maurice Sachs, an author whose books include the autobiographical Le Sabbat. Maurice's maternal grandfather Georges Sachs was a wealthy diamond merchant who was one of the founders of the socialist newspaper L'Humanité, a supporter of the leading socialists Jaurès and Briand, and a close friend of Anatole France. Maurice's grandmother Alice Sachs had left her husband Georges in 1900 for Jacques Bizet, son of the late composer Georges Bizet. Jacques Bizet, to whom the teenaged Maurice Sachs was closely attached even after he and Alice Sachs divorced, committed suicide. Maurice's mother Andrée inherited a fortune on the death of her father Georges Sachs, but by 1921 her financial situation was desperate: when she lacked funds to cover a large cheque she was sentenced to two years imprisonment. Andrée withdrew to a hotel where she took poison, but her suicide attempt failed and she was rescued by the 15-year-old Maurice who took her into exile in England, from where she never returned. Maurice stayed with his mother in London from 1921-1922 before returning to Paris. In 1938 he was in London for the production of his play (in which a 17-year-old Joan Greenwood made her first stage appearance), but was unable to contact his mother. Maurice Sachs was imprisoned at the Fuhlsbüttel concentration camp and executed in April 1945.
In 1898 Eugénie Anna Fallek (born 1875), youngest child of Madeline Marsden/Fallek, married Arthur Kahn; he had been born in Paris in 1855 but his family moved to Liverpool shortly thereafter and five of his siblings were born in Liverpool. After their wedding in Paris Arthur and Eugénie Kahn moved to London, where their five children were born between 1899 and 1906.
One of Arthur Kahn's sisters, Emily (Emilia) Victor Kahn, born in Liverpool in 1863, married Moses Marks Samuels in 1889. They had seven children, born in Dublin (Ireland) and Rhyl (Wales). Among these were Bertha Beatrice, born 1894, and Hilda Diana, born 1897. In 1908, when these two sisters were respectively aged 14 and 11, they first appeared as 'Beatie and Babs' at the Tivoli, Manchester, in a review written by their uncle Arthur Kahn. Their illustrious Music Hall career, which continued until their marriages in 1922, is described by Alan Kahn.
Beatie and Babs in 1919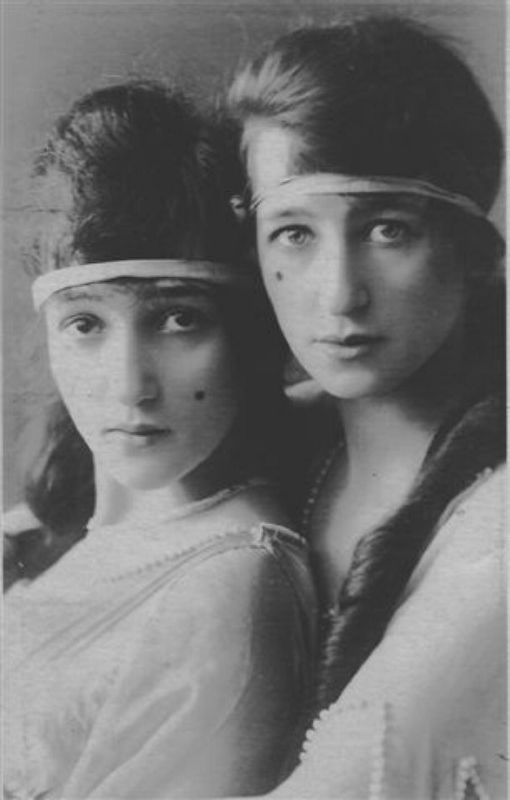 Some time in the first decade of the twentieth century, when the Fallek children had all become adults, Maurice Marsden returned to England with his wife Amelia Fallek/Marsden and lived in Bournemouth. Before Maurice Marsden's death in 1912 he prepared a will in which he remembered many members of his family in France. Of the six children of Salomon Fallek and Madeline Marsden/Fallek one had already died in 1895: Alphonse Hirsch, aged 25, who like his father had been a diamond broker. Maurice remembered the surviving five children in his will. Hermine Esther had first married Albert Hirsch, and had four children: Madeline (1887), Etienne Samuel (1890, who died in 1915 on the Marne), Jacques (1892), and Jean (1895). Hermine's second husband was Ernest Marx Isidor, only son of Lazare Isidor, Chief Rabbi of France 1867-1888, and his second wife Nanette Blum. Ernest Marx and Hermine Esther Fallek/Isidor had a daughter Nanette Isidor, born in 1907. Maurice Marsden also mentioned in his will Hélène (married Guastalla) and her son Paul, Maurice's god-son; Clotilde (married Brunschwig); and Eugénie Anna (married Arthur Kahn) to whom he left his piano. Finally Maurice remembered Ernest Abraham, who also died in the First World War, aged 47, in 1917.
When Maurice Marsden prepared his will Salomon Fallek had already died (in 1895 at 22 Rue de Lisbonne), but among Amelia's seven other siblings Maurice made special mention of Anna (widow of Maurice Rueff), and Samuel Fallek; but also Léopold, Henriette, Bernard, Ferdinand, and Maurice Fallek Then Maurice Marsden remembered the children of these siblings of Amelia. Samuel Fallek had two sons, Hippolite and Achille. Léopold had a son Pierre. Henriette had married Oscar Wahl and had a son George. Ferdinand had a son-in-law Captain Daniel Pompe. Maurice Fallek had married another Amelia; their children were Roger (god-son of Maurice Marsden), André, Gaston, Lucien, Etienne, Emile, Robert, and Renée (married Lautman).
In memory of the parents of his wife, Maurice Marsden left funds for the establishment of the "Ber and Lea Fallek Prize", at the Association Zadoc Kahn in Paris.
In 1900 Amelia Fallek/Marsden, wife of Maurice Marsden, published a French translation of the 1845 book "The Women of Israel" by Grace Aguilar: "Les Femmes d'Israël, esquisses et caractères d'après la Bible et l'histoire post-biblique, ou Considérations sur la mission et la destinée de la femme juive d'après l'Écriture sainte." The preface was written by Zadoc Kahn, who had succeeded Lazare Isidor as Chief Rabbi first of Paris and then of France; and Lazare Isidor's daughter-in-law Hermine Esther Fallek/Isidor was the niece of both Amelia Fallek/Marsden and her husband Maurice Marsden. Amelia had earlier, in 1891, translated "La Religion naturelle et la religion révélée, série de leçons à l'usage de la jeunesse israélite", by N. S. Joseph. Maurice himself published, in 1901, "Bat Tsiyon, La Fille De Sion Recueil". And in 1904 Amelia produced "La Fille de Sion, recueil de prières et de méditations pour les jeunes filles et les femmes israélites, adaptées d'après divers auteurs."
In his will Maurice Marsden also remembered the Kiefe family, particularly Max Kiefe; Max's son Oscar, a lawyer, who was Amelia's god-son; and Emily Meyer/Jacobs/Kiefe. Maurice Marsden's widow Amelia Fallek/Marsden died in 1924.
During the First World War, Max Kiefe lost two of his sons fighting for France against his native Germany. Oscar died in September 1914, aged 29. The eldest son Victor had become Max's business partner in 1907 after the death of Max's brother August. Victor Kiefe died on the Marne in October 1915, aged 35, leaving a widow Thérèse Kahn and two children, André aged 5 and Huguette aged 2.
In 1917 Max Kiefe himself died in Paris; this note was published in Le Figaro on 17th November:
Nous apprenons la mort de M. Max Kiefe, conseiller du commerce extérieur de la France, décédé, 116, rue de la Faisanderie, dans sa soixante et onzième année, il avait été frappé cruellement par la mort de deux de ses fils tués au champ d'honneur. En raison des circonstances actuelles, il n'a pas été envoyé de faire-part, et ses obsèques ont eu-lieu dans la plus stricte intimité.
Emily Meyer/Jacobs/Kiefe died in 1920. Max Kiefe's son Edmond married Hélène Fraenkel; they lived in Paris until their deaths, Edmond in 1971 aged 88 and Hélène in 1991 aged 101.
Hélène Ettinghausen/Meyer, daughter of Edith Josephine Marsden/Ettinghausen, returned to France after the death of her husband Leopold Meyer in 1904. In 1915 her elder son Henry David Meyer died aged 14 or 15; he is buried in Paris. In 1919 her mother Edith Josephine died.
Then in February 1928 Hélène's younger son Guy Samuel Meyer, aged 26 and a Lieutenant in the Dragoon Guards cavalry regiment, committed suicide in London. The Westminster coroner recorded a verdict of "suicide while temporarily insane." Guy's fits of depression may have been caused by his "rapid reduction of weight by articifial means" in order to achieve his ambitions as a horse rider. It was also said that "his brain may have been affected by accidents that have occurred. The lieutenant had been in a car which overturned, and he suffered from shock. He had also had repeated falls when steeple-chasing and polo-playing."
The inquest was addressed by Guy's commanding officer, Colonel F.W. Bullock-Marsham:
"I have known Meyer intimately for the past two-and-a-half years. I found him a promising young officer, keen on his work, popular with his brother officers, non-commissioned officers and men. I am certain he loved the regimental life…. In addition to this he was a bold rider to hounds and was keen on steeplechasing, and was constantly getting his weight down to enable him to ride. Like most riders he took his full share of falls, and I feel quite convinced that these falls and the reduction of his weight resulted in the tragedy of Monday. Yesterday week I attended Newbury races, and he was riding one of his own horses. He had a fall but remounted and finished the race apparently unhurt, but I think it quite possible he might have again fallen on his head. I saw him last on Sunday. I had half an hour's talk with him, and he was then cheerful. He told me he was getting on well with his work, and we discussed his riding of the future, and the horses he was going to ride at Cheltenham and at the Grand Military Meeting at Sandown." Speaking with deep emotion, the colonel said: "Owing to his sad death, not only I, but the whole regiment, have lost a good officer, a fine sportsman, and a loyal friend."
On 2nd March 1928 Stephen Leopold Marsden (who had been one of the executors of the will of his cousin Leopold Meyer) wrote a letter to his niece Hermine Esther Fallek/Isidor, eldest daughter of his late sister Madeline:
"My dear Hermine, Many thanks for your kind letter. I thought it was possible Hélène might not inform the family so I wrote you as I did. So that the family heard the correct facts of this terrible affair I posted cuttings from the papers, as my health does not permit me to write many letters. Guy's death came upon me as a great shock, being told by the police through the telephone. Poor boy wrote me a wonderful letter giving me all his last wishes just before shooting himself. I did not know until Hélène told me she was in January in Cannes with Guy. He was a very great favourite in his Regiment and his brother officers offered to give him a military funeral; as it was 20 of them attended the funeral at Willesden. Unless Hélène changes her plans again she may return to Paris on Sunday or Monday. I only hope she will mix a little among the family, her future life is indeed a very sad one, no husband or child left to comfort her. I think she is in very bad health and looks very ill. She will feel her loss more on her return, as here she has always had the family with her and the business affairs to occupy her. This terrible ending of Guy's life was due to the many accidents he had followed by concussion….. With fond love to you, Ernest [Isidor, her husband] and all yours. Your affect[ionate] Uncle, Stephen L. Marsden."
Two of Hélène's sisters, Emma Rosa and Béatrice, had married respectively the Dutch brothers David and Isaak Hamburger. During the German Occupation of France in the Second World War, Béatrice lived in Lyon as did Hélène and another sister Alice Mina ("Lily") who lived together. Béatrice and Alice/Lily survived the War, but Hélène died in Cannes in 1942: in 1949 she was reinterred in the Ettinghausen family section of Montparnasse cemetery in Paris (thanks to Pierre-André Meyer and Gilbert Stora for this information). Emma Rosa lived in Nice during the War; she was deported to Auschwitz where she died on 2nd November 1943.
Marguerite Kiefe (1887-1971), whose father Max Kiefe was German, and had lost her brothers Oscar and Victor fighting for France in the First World War, married Albert Michel-Lévy, son of Auguste Michel-Lévy and grandson of the distinguished medical doctor Dr Michel Lévy and Adèle Dupont, daughter of Samuel Auguste Dupont. (For a detailed biographical account of Dr Michel Lévy, see here).
Marguerite Kiefe/Michel-Lévy had five children. Four were daughters; her only son, Roger Michel-Lévy, born in 1911, was working as Deputy Inspector of Water and Forests in Besançon when Germany invaded in June 1940; he was arrested and imprisoned first near Dijon and then in a prisoner-of-war camp in Nuremberg. In April 1941 he was released and allowed to resume his work in Besançon. Germany needed French officials to administer the border region, but Roger's status of "captive leave" made his decision to join the Resistance all the more dangerous. He was arrested on 11th February 1944. Tortured, he refused to reveal any information, and was found dead in prison on 13th February 1944.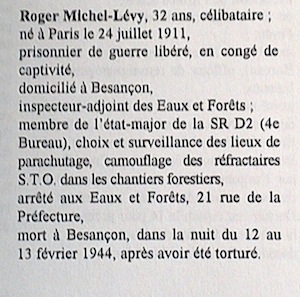 Pauline Kiefe, born in 1889, who was 7 months old when her mother Constance Rebecca Marsden/ Kiefe died, married first Dr René Albert Gutmann; their son Claude Gutmann was born in 1914. Secondly Pauline married Julien Lévy and they had three children: Gilbert Lévy (1920-1986), Ginette Lévy (1921-2012), and Jean-Jacques Lévy (1923-1943).
In 1943 Pauline's son Jean-Jacques Lévy was in the Resistance in Lyon. He was in Chambéry, Savoie, when the Germans came for him, and died by throwing himself from a window. He was aged 20. (See yadvashem). In 1944 Jean-Jacques's father (Pauline's second husband) Julien died, aged 67; but Pauline Kiefe lived until 1987 when she died aged 98.
Pauline's elder son Claude Gutmann was active in the Jewish Scouting and Guiding organization Éclaireurs israélites de France (EIF). In August 1942, under the Vichy regime, he took part in the rescue of Jewish children arrested in the Rhône-Alpes and regrouped at the camp of Vénissieux. Claude Gutmann was deported to Auschwitz in November 1943; he died in January 1945 aged 30, during the evacuation from Auschwitz to Buchenwald. (See yadvashem and also on page 31 of Biographies of the French Jewish Resistance).
Claude Gutmann ("Griffon") is memorialized in this account on the Holocaust Martyrs' and Heroes' Remembrance Authority: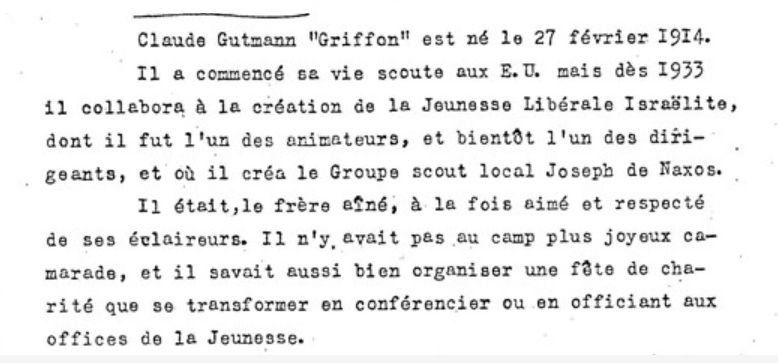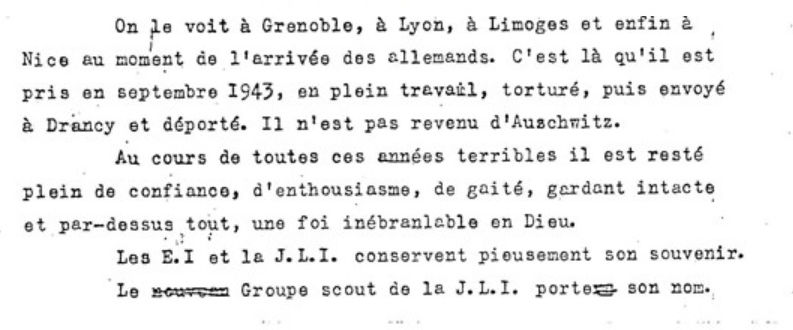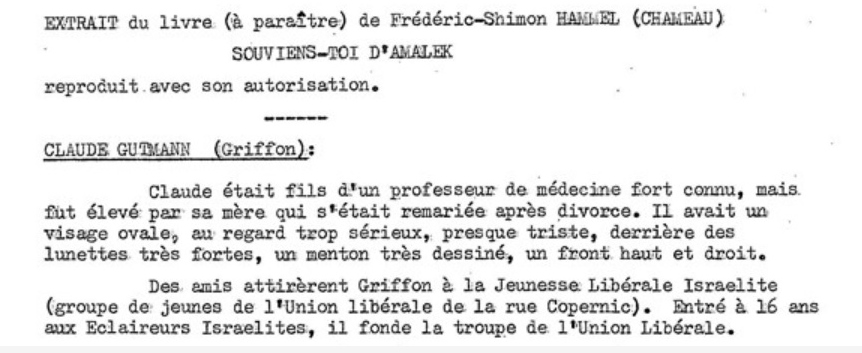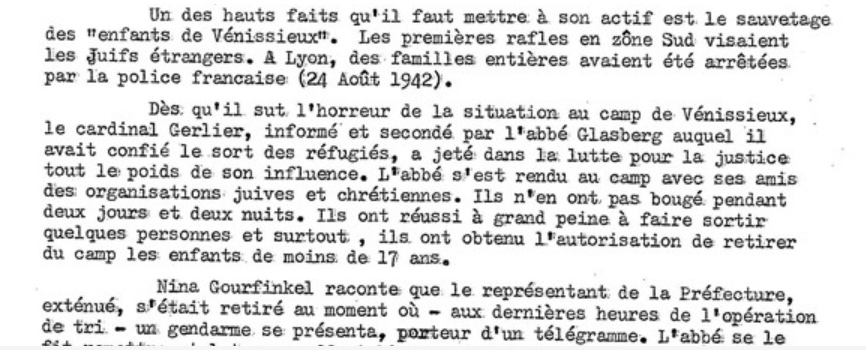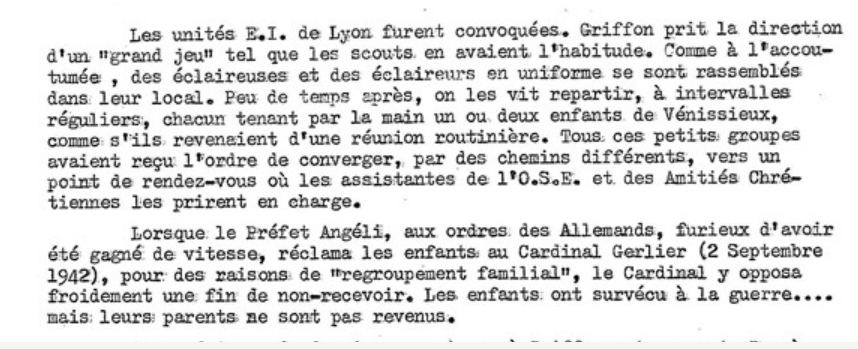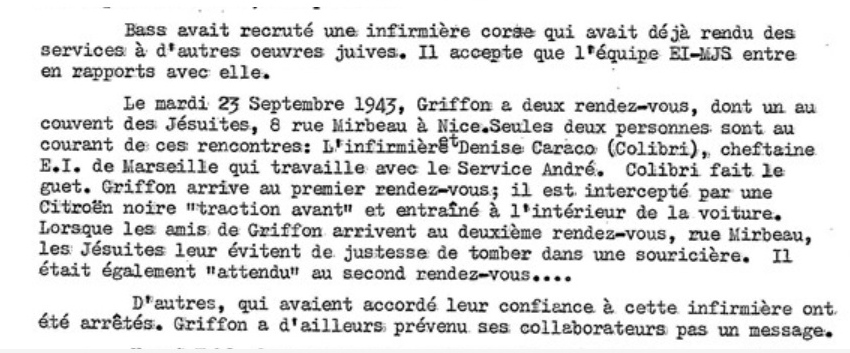 Photos by courtesy of the family collection of Annie Léon.
Page last updated 28 Oct 2021.