Joseph Saxby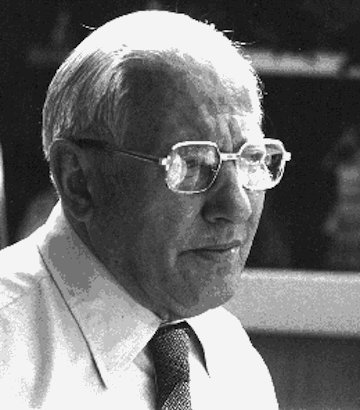 (1910-1997), son of Michael Zacharewitsch, nephew of David Sisserman.
Initially known as Joseph Zacharewitsch, for most of his career he used the name Joseph Saxby (his mother's maiden name). He started his musical career as a pianist and in 1925, at the age of 15, joined his father as accompanist on a tour which included the USA and Australia.
He trained as a harpsichordist with Arnold Dolmetsch, and lived the rest of his life close to the Dolmetsch family in Haslemere. He famously accompanied the recorder player, Arnold's son Carl Dolmetsch, for more than 60 years.
In 1950 The Times of London announced: "A marriage has been arranged, and will take place on February 9, between Joseph Anthony Saxby, only son of Mr. and Mrs. Michael Zacharewitsch, of 118 Greencroft Gardens, Hampstead, NW6, and Patricia, only daughter of Mr. and Mrs. Oliver Hook, of Brackenridge, Brockenhurst, Hampshire." The marriage was probably short-lived. (Patricia Saxby died in 1983 in Basingstoke, Hampshire.)
In April 1965 Saxby visited Hobart, Tasmania, and had a reunion with his uncle Gregory Ivanoff after 40 years; a press cutting shows the two men in Hobart. Gregory Ivanoff died only four months later, in August 1965.
Obituary of Joseph Saxby (1910 - 1997)
From the "The Independent":
Joseph Michael Zacharewitsch (Joseph Saxby), pianist: born London 3 January 1910; died Haslemere, Surrey 25 June 1997.

The world of early music has been dealt a double blow with the deaths of Joseph Saxby and Carl Dolmetsch within just over two weeks. Saxby had been principal harpsichordist at the Haslemere Festival for 60 years and a partner to Carl Dolmetsch in duo recitals which took them all over the world.

Saxby was born in London in 1910, the son of the celebrated Russian violinist Michael Zacharewitsch, who, at the age of 12, had played the Tchaikovsky Violin Concerto with the composer conducting. His mother was Joan Saxby, an American, and it was her name that he adopted in order to avoid confusion with his father.

He first appeared on the concert platform as his father's accompanist when he was still in his teens and entered the Royal College of Music in 1927 under Hubert Fryer for piano and composition as his second study. He went on to achieve considerable success as a soloist and accompanist and played for the famous Irish tenor John McCormack on his farewell tour. It was in 1932 at the Oxford Playhouse that Saxby first met Carl Dolmetsch and his sister Nathalie when they formed a baroque trio to provide incidental music for a Shakespeare production. The experience inspired Saxby to turn to the harpsichord and he subsequently studied with Arnold Dolmetsch, Carl's father and founder of the Haslemere Festival. This was the beginning of a friendship and musical partnership which was to last for over 60 years. "The Dolmetschs are my family," he said. Dolmetsch and Saxby undertook 49 international tours and gave 42 Wigmore Hall recitals. Saxby first appeared at the Haslemere Festival in 1938 playing the Bach Brandenburg Concerto No 5 and appeared in every subsequent concert until he retired at the age of 80. Saxby moved to Haslemere after the Second World War and soon became an established local figure. He entered into the life of the town with enthusiasm, playing the piano accompaniment at the annual pantomime, put on by the local amateur dramatic society: he was also available for any charitable cause, which he undertook as if it were an important professional engagement. He was, admittedly, a showman, but always in the best of taste. Each year at the Haslemere Festival, after having played an intricate solo suite with great virtuosity, he would rise, bow, and, with an impish smile, give a sweeping gesture as if to say, "It was nothing." Saxby was not only a fine musician but a charming, ebullient and lovable man with a wicked twinkle in his eye which captivated all who knew him. His puns were legendary and his sense of humour equally so, but not always complimentary. A story is told about a time when he was chatting to friends in the street and an ambulance screamed past. In a flash, Saxby remarked: "It reminds me of a soprano I once accompanied.
Margaret Campbell.
Joseph Saxby was born 3rd January 1910, the son of Russian violinist Mikhail Zakharevich (Michael Zacharewitsch) (1879-1953), who had been a student of Sevcik and Ysaye, and American Joan Saxby. At the age of 15, and already showing a precocious talent, he toured America as his father's accompanist. A pupil of Adela Hamaton, he went on to study under Hubert Fryer at The Royal College of Music, London. Joseph used his mother's surname to avoid confusion with his father. He went on to accompany John McCormack, the famous Irish tenor, on his farewell tour of America. In 1932, when Joseph was 22, he met Carl Dolmetsch, who was playing the recorder for a production of William Shakespeare's Twelfth Night at The Oxford Playhouse. Joseph was playing the virginals. Turning then to the harpsichord he studied with Arnold Dolmetsch and joining Carl Dolmetsch launched their celebrated musical partnership which was to see 40 annual Wigmore Hall recitals, 20 coast-to-coast American tours, as well as tours of Australia, New Zealand, Japan, North and South America, Alaska, Canada and Europe. Joseph will always be remembered as an ebullient, convivial, extrovert punster, a wonderful foil to Dr. Carl with whom he enjoyed 60 rich years of music. To many Haslemere residents his role as accompanist in countless pantomimes and his devoted work as organist at Our Lady of Lourdes Catholic Church , Haslemere, will be of particular note. Latterly, Joseph retired in Haslemere but continued to make music until a few weeks of his death. Dr. Carl Dolmetsch died a few weeks after Joseph.
Saxby's entry in the probate records gives his name as JOSEPH MICHAEL LISSEMAN-ZACHAREWITSCH (LISSEMAN should be SISSERMAN).
Page last updated 24 Apr 2019.