Moses Gomes Silva
(c.1786-1858, father-in-law of Isaac Moses Marsden)
Moses Gomes Silva, the father of Esther, the second wife of Isaac Moses Marsden, was born in Kingston, Jamaica c. 1786 and died in London in 1858. The first wife of Moses, Rachel, died in 1809, and in 1824 Moses married Elizabeth Mesquitta (1805 - 1875). Moses and Elizabeth had four children, all born in Jamaica: Esther, the eldest, was born in 1825 and named after her paternal grandmother; the others were David (1826), Isaac - known as John -(1831), and Julia (1833).
The history of the Gomes Silva family, who left Jamaica for England in the 1840s, has been studied in detail by Anne Stockill (a descendant of Julia Gomes Silva) and she has provided much of the information on this page.
I am also grateful to Christopher White who has allowed me to refer to a report of January 2015 which he commissioned from Debrett Ancestry Research Ltd. This report shows that after leaving Portugal the Gomes Silva family had an established connection with the Sephardic Jewish community in London before they settled in Jamaica. Debrett write: "It is reasonably clear, from the Bevis Marks registers and from tombstone inscriptions in Jamaican Jewish cemeteries, that the family moved easily between London and Kingston (or Spanish Town) throughout the eighteenth century." The records of the Bevis Marks Synagogue include Abraham Gomes Silva (died 1737), Leah (1767), and Jacob (1775).
History of the Portuguese Jews in Jamaica
Gomes spelt with an 's' normally means that the family originates from Portugal, whereas Gomez spelt with a 'z' means that it originates from Spain.
Among several sources, particular mention should be made of the book by Mordecai Arbell, "The Portuguese Jews of Jamaica" (Canoe Press, University of the West Indies, 2000), and the entry on Jamaica by Arbell and Benjamin Schlesinger in Encyclopaedia Judaica.
In 1492 the Islamic Emirate of Grenada fell to the Catholic monarchs of Spain. This was soon followed by the Alhambra Decree which ordered all Jews to either convert to Christianity or leave the country. Those who chose to convert from Judaism to Catholicism, the Conversos, were also known as New Christians or Marranos ('pigs'); while the term Crypto-Jews refers to those who had ostensibly converted but were suspected of secretly practising Judaism. About half of all Jews who left Spain in 1492 went to Portugal, but from 1536 Crypto-Jews became the main target of the Portuguese Inquisition which also extended its operations to Portuguese colonies such as Brazil.
Jamaica had since 1503 been ruled as a Spanish colony by Christopher Columbus (Colon) and his descendants. One of these descendants, Isabella Colon, married a Portuguese nobleman of the house of Braganza; under her son, Portugallo Colon, Crypto-Jews from Portugal were permitted to settle in Jamaica from 1530. And significantly, the Colon-Braganza rulers impeded the installation of the tribunal of the Inquisition in Jamaica.
From 1530 to 1660 Crypto-Jews emigrating to the New World were nearly all Portuguese.
Upon the occupation of Jamaica by the English from 1654 they were welcomed by the "Portugals" - people of Jewish origin who slowly began returning to the overt practice of Judaism. At almost the same time, 1656, Oliver Cromwell gave permission for Jews to settle in England.
In the new capital founded by the English, Port Royal, the Jews were joined by their brethren from Amsterdam, Bordeaux, and Bayonne. In 1662 Jews came to Jamaica from Brazil, in 1663 from England, and in 1664 from British Guiana.
Jews met with immediate success in the sugar cane and cocoa plantations they founded, and in Port Royal they developed an impressive commercial centre, owing to their proficiency in the Spanish language, trading with Spanish America. They formed a community and allegedly built a synagogue.
From the mid-17th century until the earthquake of June 7, 1692, most Jews lived in Port Royal. Bryan Edwards, in his History Civil and Commercial, of the British Colonies on the West Indies (London, 1793–1801), wrote, "The Jews enjoyed almost every privilege possessed by the Christian whites except…," and here he enumerated the civil disabilities still in force against them. He continued, "They have the liberty of purchasing and holding lands as freely as other people and they are likewise allowed the public exercise of their religion; and I have not heard that Jamaica has any reason to repent of her liberality towards them."
The violent earthquake of June 1692 was followed by a tidal wave that completely destroyed the city of Port Royal, and Spanish Town then became the capital. The Jews moved to it as well as to newly built Kingston and elsewhere in the island. A Spanish-Portuguese congregation was founded in Spanish Town in 1692 and the synagogue Neve Shalom was established in 1704. As more Jews settled in Kingston, communities formed, and in 1744 the luxurious synagogue Sha'ar ha-Shomaim was erected.
Jewish civil rights in Jamaica and England
Sheldon and Judith Godfrey, in "Search out the Land: The Jews and the Growth of Equality in British Colonial America" (Quebec, 1995), discuss the importance of the 1740 Plantation Act which encouraged Jews to bring their mercantile skills to the British colonies of North America by offering Naturalisation. In Jamaica this Act led to the Jewish question becoming highly controversial, with Jews demanding full political enfranchisement. But it was not till 90 years later, in 1831, that they eventually obtained full civil rights. This influenced the debate in England, and in 1833 the pamphlet "A Few Words Respecting the Enfranchisement of British Jews Addressed to the New Parliament" was published by Francis Goldsmid, the fiirst Jew to become an English barrister. Goldsmid wrote that since 1830 Parliament had voted down successive bills to admit enfranchise English Jews, in contrast to other countries. "Three bills have, in the last few years, been successively passed by the Legislative Assembly of Jamaica, for relieving the Jewish inhabitants of that island from the disqualifications to which they were subject… The third Bill received the Royal assent early in 1831 : and such was the anxiety felt in Jamaica to lose no time in carrying this long-expected measure into active operation, that not a month - I believe not a week - elapsed from the time when the tidings of its confirmation were received, before several Jews were appointed to offices analogous to those of Magistrate and Sheriff in this country". In an Appendix Goldsmid lists such Jews, including in October 1831 Moses Gomes Silva as Provost Marshall General (analagous to the English office of Sheriff). Goldsmid concluded: "We have seen that to the catalogue of countries where Jews enjoy an equality of rights with their fellow-citizens, - a catalogue which previously comprised France, Holland, Denmark, and the United States of America, - two dependencies of Great Britain herself, Canada and Jamaica, have now been added. If we look upon the other side of the picture, and ask which are the States where the penalty of exclusion is still atttached to the profession of the Jewish faith, we shall find the principal to be Russia, Prussia, Turkey, Spain, Portugal, and England…. Is the list a bright list, in which the name of England appears? Are the laws likely to be good laws, which she shares with the most despotic Governments, with the least enlightened nations of Europe? Will she longer remain a member of this confederacy of intolerance?"
In fact it was not till 1845 that Jews in England were first allowed participation in local government, and not till 1858 that they gained entry to Parliament (Anthony Joseph, "My Ancestors were Jewish", Society of Genealogists Enterprises, 2008). Francis Goldsmid himself was elected to Parliament in 1860.
Aubrey Weinberg, in "Portsmouth Jewry" (Portsmouth City Council, Paper no. 41, 1985) tells the story of Emanuel Emanuel who, when first elected a councillor in 1841 refused to take the oath on 'the faith of a Christian' and became liable to a fine of £500 for every vote he subsequently gave, but as "there was no one in Portsmouth mean enough to proceed against this valiant Jew" his position remained unchallenged and he was to become the first Jewish mayor of Portsmouth in 1866. "A man of obvious strong principle, Emanuel Emanuel did not shrink from combining his Jewish and secular roles. In 1873 he objected to the impropriety of prayers and hymns being introduced into the town's School Board schools, citing the latent anti-semitism in some of the verses", for example
Lord I ascribe it to thy grace / And not to chance as others do / That I was born of Christian race / And not a heathen or a Jew.
Of course the Prime Minister in 1868 and 1874-1880 had been born a Jew, but Benjamin Disraeli was baptised at the age of 12 and remained an observant Anglican. Rabbi David Wolpe, in "Disraeli: The curious case of England's Jewish prime minister" (Jewish Journal, 2008), writes that "his contemporaries continued to see him as Jewish, and Disraeli himself alternately evaded and relished his heritage."
The Gomes Silva family in Jamaica
The Gomes Silva family were landowners in Jamaica from at least the mid-18th century. Indexes of Land Patented to Jews in St James district indicate that in 1755 an Isaac Gomes Silva owned some 1600 acres. This land ownership was of course associated with slavery. Upon the death in 1817 of Esther, the mother of Moses Gomes Silva, her executor prepared a return for the five slaves she had owned.
On 2nd November 1822 Moses paid £50 for the manumission of the enslaved person Daniel. Moses Gomes Silva was Assistant Deputy-Marshall in Jamaica in 1823 ("A Letter to the Right Honorable Sir George Murray Relative to the Deportation of Lecesne and Escoffery from Jamaica" by William Burge via Googlebooks pp. 105-114). (For these references I am grateful to Rachel Lang, Researcher/Administrator, Legacies of British Slave-ownership, University College London.)
The Slave Registers of former British Colonial Dependencies 1812 - 1834 show Moses Gomes Silva's slave ownership in 1826 and 1829:
Moses Gomes Silva's 1826 return for his 21 slaves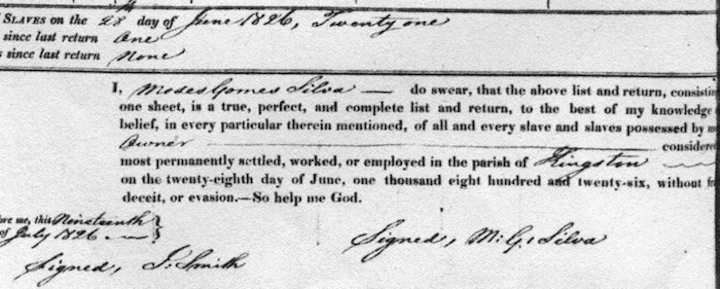 Elizabeth Gomes Silva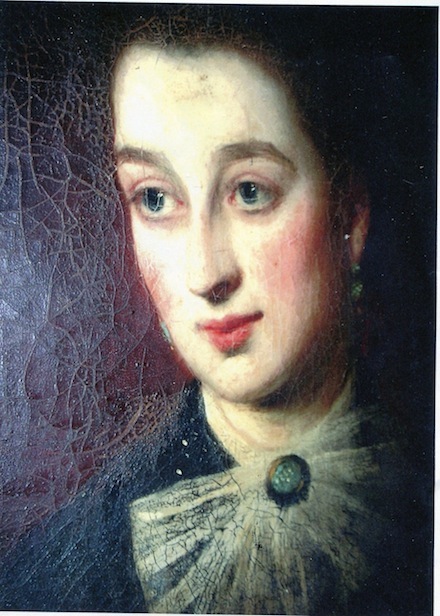 Moses Gomes Silva was "a significant sugar plantation owner and merchant" (Debrett report, 2015), and evidently a prominent figure in Jamaican society because (as already noted) he was appointed Provost Marshall General in October 1831, soon after Jews obtained full civil rights. He served as Provost Marshall General until 1838 (link) and the 1840 Jamaica Almanac lists him as an Assistant Judge and Magistrate.
As is well known, the transatlantic slave trade was abolished in 1808, but slavery in Jamaica was ended only following the 1833 Abolition of Slavery Act of the British Parliament. Before that, at Christmas 1831, frustrated expectations of emancipation led to the Great Jamaican Slave Revolt which lasted 10 days and mobilized as many as 60,000 of Jamaica's 300,000 slave population. The reaction of the Jamaican Government and plantocracy was brutal and about five hundred slaves were killed. However the Gomes Silva estate may not have been affected, as the revolt started in the western part of the island and "surprisingly, Kingston and Spanish Town remained untouched by the revolt." (Link) "The brutality of the plantocracy during the revolt is thought to have accelerated the process of emancipation, with initial measures beginning in 1833, followed by partial emancipation (outright for children six or under, six years apprenticeship for the rest) in 1834, and then unconditional emancipation of chattel slavery in 1838" (Link)
Emancipation of Jamaican slaves involved compensation from Britain: the vast sum of £20 million, equivalent to about £1.6 billion today. This is being documented by the Legacies of British Slave-ownership project of University College London: in 1836 Moses Gomes Silva was paid £367 18s 9d for his 20 slaves, equivalent to about £29,000 today. (Two other claims by Moses Gomes Silva are shown but these were on behalf of others. I am grateful for this information to Dr Nick Draper of UCL.)
In England from c.1841
At the 1841 census Elizabeth Gomes Silva was living at 2 King Street, Finsbury Square, Shoreditch, with her four children Esther (aged 15), David (14), John (9), and Julia (7). In an 1843 Post Office Directory, Moses Gomes Silva & Co appear as "West India merchants" at 13 East India Chambers, Leadenhall Street in the City of London, and Moses Gomes Silva as "Jamaica merchant" at 2 King Street, Finsbury Square.
Moses and his wife Elizabeth were prominent in the Sephardic Jewish community in London, with Moses acting as a chief vestryman at Bevis Marks Synagogue (Debrett report, 2015),
It was at the Gomes Silva house in King Street that in 1845 Esther married Isaac Moses, then a widower aged 36. Esther, aged 20, became the step-mother of Isaac's five children by his late wife Rachel Hyam: Julia (16), Kate (14), Maurice (13), Montague (12) and Rachel (9). And Isaac was only 4 years younger than Elizabeth, his mother-in-law. Isaac's address at the time of his second marriage is still 154 Minories, Whitechapel, "over the shop" of E. Moses & Son.
In 1851 the marriage took place of Esther's sister, Julia Gomes Silva (aged 17) to Edward White, surveyor. Edward was the son of James White, a bootmaker, and was later known as Edward Fox White. This was a civil marriage in a registry office, and Edward and Julia had their first six children baptised, so - as their descendant Anne Stockill puts it - they "had really left any of Julia's Jewish background behind". The address on their marriage certificate is 15 Rupert Street, Soho, but at the 1851 census (17 days after their marriage) Edward White "surveyor and engineer" and Julia were living at 5 Taunton Place, St. Marylebone; Elizabeth Gomes Silva was recorded as the head of their household, a "landed proprietress" born in Jamaica but a British subject. So Moses Gomes Silva was present neither at the 1841 or the 1851 census.
By 1852 Edward and Julia had moved to 2 Alfred Road, Westbourne Green; in 1854 they were at Upper Gloucester Place and Edward was still a surveyor. But by 1857, when they were living at 2 Hanover Terrace, Kensington, Edward's occupation was "dealer in works of art". In the 1860s he owned a "Gallery of Fine Arts" in Mayfair, first at 60 Brook Street an then at 13-15 King Street, St. James.
Julia and Edward White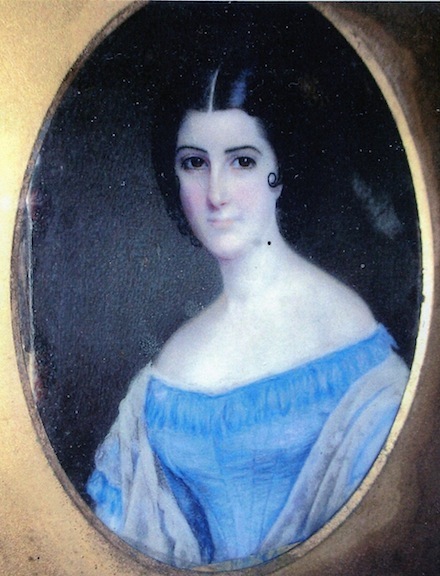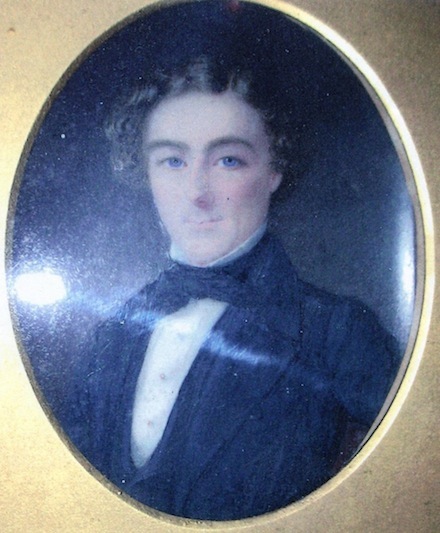 John Gomes Silva in Australia from 1852
On 18 September 1852 E. Moses and Son placed an advertisement in 'The Examiner' (thanks to Laura Jones for the source). It included this passage: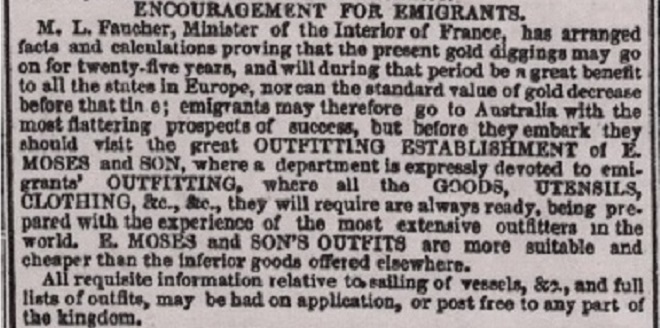 In October 1852 John Asher Gomes Silva (brother of Esther and Julia), aged 19, arrived in Australia. He was travelling with Montague Moses, also aged 19, son of Isaac Moses Marsden (and his first wife Rachel). On 19 October 1852 this announcement appeared in the 'Melbourne Argus':
MESSRS E. MOSES & SON beg most respectfully to announce the establishment in this City of a Wholesale Branch of their far-famed House in the Metropolis of England. The universal celebrity which they have so long uninteruptedly enjoyed, lends them to hope that the same success which has hitherto attended to their efforts, will meet them in their undertaking in this Colony. Encouraged by the gratifying results which have ever crowned their exertions, and which have secured for them the high position they now occupy in the commercial world, they have been induced to offer to the Australian public matchless and genuine manufactures at reasonable prices. It being the intention of Messrs E. Moses and Son to forward to London extensive orders, they will feel happy in executing any commissions with which they may be favoured, with the utmost exactitude and promptitude ; and they moreover guarantee that, neither zeal nor attention shall be wasting on their parts to secure entire satisfaction. Not having yet concluded arrangements for the extensive premises they are at present in treaty for, Messrs E. Moses & Son earnestly request an inspection of their samples at their Office, No 76, corner of Bourke and Swanston-streets.
In February 1855 a notice appeared in the 'Melbourne Argus' regarding a storekeeper business at Bendigo Diggs (Bendigo being the epicentre of the Australian Gold Rush in the 1850s). In essence one of the three partners, Alexander Fox, withdrew and "the business will be carried on by the undersigned, Maurice Isaac Moses, and John Gomes Silva", John Silva's signature being "by his attorney, Montague Moses."
On 20th June 1855 the marriage took place of John Asher Gomes Silva (brother of Esther and Julia) to Kate Moses, Isaac's second child with his first wife Rachel. Kate was aged 24, and her husband John was the brother of her step-mother. The marriage took place at the home of Isaac Moses (36 Gloucester Square) and was conducted by the Chief Rabbi.
Soon after their wedding, in October 1855 John and Kate Silva took the boat (First Class) to Australia, and settled in Melbourne. Within a few months the wholesale branch of E. Moses & Son in Melbourne (and also its business in Bendigo) would be closed. The 'Melbourne Argus' of 12 February 1856 contained these notices:
NOTICE - Retiring from Business. Messrs. E. MOSES and SON, before retiring from the Australian import trade, desire to convey their warmest thanks to their numerous friends and the public for the very kind and highly flattering patronage which has attended their mercantile career in these colonies, and for the complete success which has crowned their humble efforts. Appreciating the importance of an augmented commercial reputation, they established a wholesale branch in the metropolis of the Southern Hemisphere, and they are truly and deeply sensible of the liberal support which has accompanied their exertions. Their Melbourne establishment will be wound up with all convenient despatch, but they regret extremely that circumstances of a private character should require the discontinuance of so lucrative a business. Messrs. E. Moses and Son venture to express the hope that the same favor which has been lavished on them will be extended to Mr. J. G. Silva, to whom this business has been disposed of, and who will establish himself here under the style of J. G. Silva and Co. ; they likewise beg to solicit for their London house a continuance of the support of importers here, who may depend on all commands (especially for every description of Boots, and Shoes, and Clothing) being promptly executed ; having gained considerable experience during their four years immediate connection with the Australian markets, they feel competent to complete all orders with perfect satisfaction to their constituents. (Signed) E. MOSES and SON. Lonsdale-street west, 11th February, 1856

NOTICE - Mr. J. G. SILVA, in introducing himself to the public, under the style of J. G. SILVA and CO., begs to tender his thanks for the benefit he has derived from their handsome support to the firm of E. Moses and Son, and he avails himself of this opportunity to announce his intention of conducting his business on those principles, so widely known and approved, which have ever characterised the commercial transactions of the distinguished house with which he has had the honor of being connected. Mr. J. G. Silva would, in giving this assurance, at the some time mention that his business will consist of a general import trade, for which he respectfully solicits a share of public patronage. In anticipation of establishing himself in this business, Mr. J. G. Silva did, on his visit to England last year, make arrangements for shipments to him of general merchandise per Mermaid, Earl of Sefton, and other early vessels. The offices of Messrs. J. G. Silva and Co. are, pro. tem., at the stores of Messrs. E. Moses and Son. (Signed) J. G. SILVA and CO. Lonsdale-street west, 11th February, 1856
The 1856 electoral roll shows the address of John and Kate Silva as Eastern Hill; then they moved to the St Kilda's distict of Melbourne. An article published by the St Kilda's Historical Society states:
Henry 'Money' Miller, (1809-88), financier and opportunist, who died leaving an estate of over £1.6 million, is said to have advanced £4,000 to merchant John Gomez De Silva [sic] to finance construction of his house Etloe Hall, in 1856; an amount so fabulous that the house is said to have been known as De Silva's Folly. De Silva was a Portuguese [sic] merchant and importer who lived in Melbourne from 1851-59 [actually 1852 - 1861], the initial prosperous years of the Gold Rush and of Separation of Victoria from the colony of New South Wales. Even in this brief time, his business is said to have failed twice.
On 26 March 1857 the 'Melbourne Argus' announced the auction of John Gomes Silva's new 17-roomed mansion on 1 April:
Magnificent Freehold Property. Certain and Profitable Investment. The Most Elegant Residence in Victoria, Etloe Hall, St Kilda. FRASER and COHEN have been favoured with instructions from J. G. Silva, Esq., to sell by auction, at the mart, 14 Collins-street, on Wednesday, 1st April, at twelve o'clock precisely, Those Newly and Elegantly Erected Premises, at present occupied by the Proprietor, and known as Etloe Hall, St. Kilda, Described as under:- All that piece or parcel of land, having a frontage to Burnett-street 163 feet, and to Princes-street 120 feet, being a corner allotment, in all about half an acre, upon which has been recently erected a most splendid residence of the very best materials, and for architecture and design, both internally and externally, not equalled by any other in the colony, no expense having been spared by the proprietor to make it in all respects a most delightful residence….
But the mansion was not sold on 1 April. It was only after Gomes Silva's initial insolvency hearings at the Supreme Court in June and early July ('The Age', Melbourne, 8 July 1857) that Etloe Hall was advertised again, in the 'Melbourne Argus', 18 July 1857:
ST. KILDA.- To be LET or Sold, a most commodious and handsome FAMILY MANSION, known as Etloe Hall, and lately occupied by J. G. Silva, Esq. It contains large and elegant reception, dining, and breakfast rooms, spacious bedrooms, elegant and spacious hall, very superior servants' offices, stabling, outhouses, and gardens, a plentiful supply of water laid on all over the house. For full particulars apply to MOSES and ADOLPHUS, 38 Little Collins-street west, Melbourne.
John's further insolvency hearings were reported in the 'Mount Alexander Mail', 21 August 1857; and 'Melbourne Argus', 10 October 1857.
Etloe Hall later became a school, known as Oberwyl, and the property is listed as of historical significance by the National Trust of Australia.
The first child of Kate and John Silva, born in Melbourne in 1957, was named Angelina, presumably in memory of Kate's half-sister Angelina Florence who had died in 1854 aged 5. Another three children were born in Melbourne: Josephine (1858), Reginald (1859), and Estelle (1860).
Death of Moses Gomes Silva, 1858
While John Gomes Silva was in Australia, his elder brother David had gone to Auckland, New Zealand, in 1853, where in 1857 he married Harriett Baker (born in 1833 in Highgate, London).
In 1858 Moses Gomes Silva died aged 72 at his home, 3 Horbury Crescent, Notting Hill; present at his death was his son-in-law Edward White (husband of Julia), who is also the informant on the death certificate. Moses was buried at Bevis Marks Cemetery.
Return of Kate and John to London, 1861
In September 1861 Kate and John and their four children moved back to London, where another seven children were born: Zillah (1862), Maud (1863), Harold (1865), Frederick (1866), Horace (1867), Mortimer (1869), and Myra (1870).
What John Gomes Silva was doing in London from 1861 is not known, but significantly Kate's father Isaac Marsden had indentures drawn up in 1865 and 1867, appointing Kate's brothers Montague and Maurice as her trustees to protect Kate from her husband. Kate's will (dated 1886) states that the indentures cover "plates, linen, china and household effects" which were held for her by Montague and Maurice Marsden "in trust for myself and my executors, administrators and assigns for my sole and separate use independently of the said John Gomes Silva and of his debts, control and engagements."
Early in 1871 Kate and John Gomes Silva separated. At the time of the 1871 census all their 11 children (aged from 14 years to one year old) were living at the Jewish boarding-school in Kew, Surrey, run by Leopold Neumegen. The children were known by the surname Templeton; at the same census their father was recorded as "John S. Templeton", age 40, "Retired merchant", a visitor at a house in Lambeth, South London. John then returned to Melbourne, Australia.
Death of Julia White (Gomes Silva), 1871
At the 1861 census Edward White and Julia were living at 50 Argyll Street, Kensington. Edward was aged 33; Julia, aged 26, had 8 children aged from 9 years to 1 month.
In March 1871 Julia White died of pneumonia, aged 37, six weeks after the birth of her 15th child. Her husband Edward, now known as Edward Fox White, was present at her death at their house - 13 Belsize Park Gardens, Hampstead. This painting of him by Tissot was passed down through the family until it was sold at Sotherby's by Anne Stockill's mother for £55,000. It can be surmised that Edward introduced Tissot to Algernon Moses Marsden, the nephew of Julia White, who became Tissot's dealer (timeline for Isaac Moses Marsden at 1877). Tissot did both paintings in 1877 and they are currently (September 2023) displayed together at the National Portrait Gallery in London.
Edward Fox White, painting by J. Tissot, and Julia White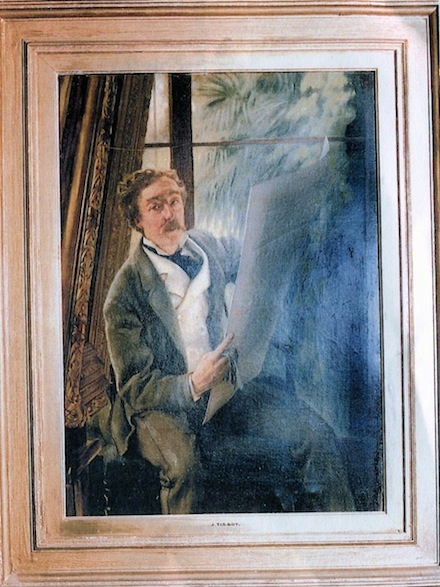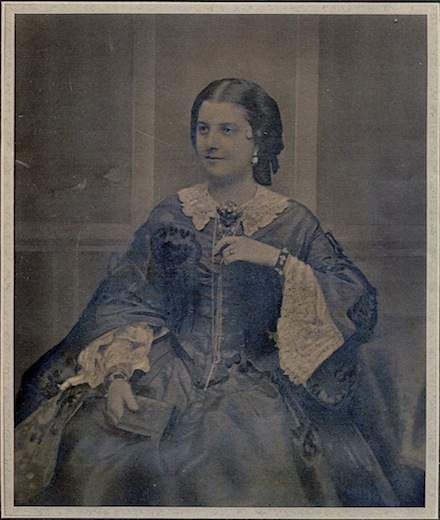 One of the 15 children orphaned by the death of Julia White in 1871 was Arthur (1857 - 1932), who in adulthood was known as Arthur Silva White. Arthur married Catherine Bennett, and after her early death spent years travelling in Africa and was the author of several books including "The Development of Africa" (1890), and "The Expansion of Egypt under Anglo-Egyptian Condominium" (1899); he was a key founder member of the Royal Scottish Geographical Society. Arthur Silva White's second wife was Beatrice Brookes, and they had two children: Cyril, and Elfrida (mother of Anne Stockill). Arthur's birth year is usually reported as 1859, and in the 1861 census his age is given as 2, but there is a record of his baptism in November 1857.
Another of the 15 children of Edward and Julia White was Beatrice (1862 - 1917). "Beaty" had what would now be classified as "learning difficulties". After her mother's death she remained at home for a few more years, and was probably cared for by Sarah Brown, from Kingston, Jamaica, who was recorded in the White household in the 1861 census as "nurse" aged 45 and in 1871 as "housekeeper" aged 53. But when Beaty was 13 she was admitted to the Normansfield Insane Asylum, in Teddington, Middlesex, where she remained for 43 years until her death. Normansfield was owned by Dr Langdon Down, after whom Down Syndrome is named. (Andy Merriman, "Tales of Normansfield: The Langdon Down Legacy", Down's Syndrome Association, 2007.)
Henry Sidney White (1855-1929) was another son of Edward and Julia. He emigrated to North America; his great-grandson is Christopher White.
Three of the sons of Edward and Julia became, like their father, "dealers in pictures": Edward Silva White (1854-1888), Eugene Gomes White (1858-1898), and Herbert (aka Bertie) Fox White (1866-1932).
Another two of the sons of Edward and Julia became tea planters: Cyril David (1863-1905) who died in Assam, India, and Robert (Bobbie) Cecil (1871-1924). Francis (1856-1896) was a physician; when he married at St Andrew's Church, West Kensington, in September 1887 he was described as "Francis Silva White, M.R.C.S, Eng., L.S.A. of Chelsea".
The Rev Algernon Silva-White (1866-1953) married Lillian Clare Augustine St. Martin, who had been born in Tamil Nadu, India. They lived in British Columbia, Canada, where they had two sons, Raymond (born 1902) and Cyril Percy (1905). Lillian, wife of the Rev Algernon Silva-White, died in 1912, aged 42. Algernon married secondly R. Battle, and their son Walter Edward Battle Silva-White was born in 1923 in Sunderland, England. Walter joined the 11th Battalion of the Durham Home Guard, saw action as an RAF volunteer reserve, and died in Italy in 1944, one month before his 21st birthday. His father, Rev Algernon, died in Sunderland in 1953.
Death of David Gomes Silva, 1872
The first child of David Gomes Silva and his wife Harriett, Harry William Gomes Silva, was born in Auckland, New Zealand, in 1858. He suffered from hydrocephalus. Another son, Algernon, was also born in Auckland in 1860, but the family then returned to England where Harry William died in December 1863, aged 5. David and Harriett had three more children born in London: Augustus (in 1864), Esther Elizabeth (1865) and David (1867).
The family appeared in the 1871 census at 10 London Street, Greenwich, near the Maritime Museum in Greenwich Park. David's occupation was tobacconist in Greenwich.
In 1872 David Gomes Silva died aged 45, leaving his wife Harriett (aged 39) and four children. He was buried at Bevis Marks Cemetery. Cause of death was poisoning from an overdose of hydrate of chloral, which he had been in the habit of taking "as a sleeping draught for the effects of excessive drinking", according to the inquest.
Death of Elizabeth Gomes Silva, 1875
The 1871 census recorded Elizabeth Gomes Silva living with Isaac Marsden, Esther and family at 23 Kensington Palace Gardens. In 1871-2 Esther was the only one of Elizabeth's four children for whom life ran a normal course: John separated from his wife and abandoned their children, Julia and David had early deaths.
It was at the house of Isaac and Esther that Elizabeth died in January 1875. As well as her two surviving children, she had around 40 grandchildren. Elizabeth was buried at Bevis Marks Cemetery. On 10th March 1875 her death was reported in the Melbourne Argus:

Her will uses the name Bathsheba, not Elizabeth. Her son David having died in 1872, the surviving executor was John or "Isaac Gomes Silva" of Melbourne. (The actual Letters of Administration contain the additional information "otherwise John Gomes Silva Templeton", but this has been crossed out.)

Five years later, on 15th June 1880, the 'Jamaica Gleaner' reported on sales of property in Jamaica which had belonged to Moses and Elizabeth:
The trust real estate of Moses Gomes Silva and Bathsheba his wife was again put up for sale at the Court House, Harbour Street, yesterday before Thomas Hendrick, Esq., Registrar, by Mr. Joseph Stines. The first lot, 134 Harbour Street, was withdrawn at £650. For the second lot, 39 Port Royal Street, there were no bids. At £40 the third lot, 108 Orange Street, was withdrawn, but at the same figure lot the fourth, 68 Princess Street, was sold to Mr. John Davidson of St. Mary for £40.
John Gomes Silva back in Australia
In 1880 Kate Gomes Silva was living at 9 Colville Terrace, Westbourne Park. In the 1881 census the eldest two daughters of Kate and John Gomes Silva (both born in Melbourne) were living with relatives in London: Angelina (aged 24) with Rodolph Isaac and family, and Josephine (aged 23) with the household of Algernon Moses Marsden. Josephine Gomes Silva died in 1882, aged 24.
On 8th March 1880 John Gomes Silva appeared in the 'New South Wales Police Gazette'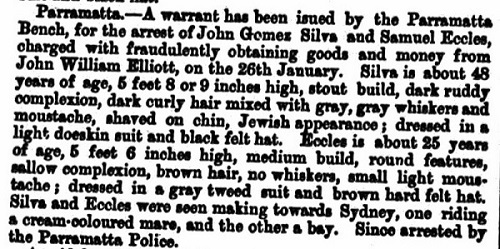 In December of the same year, he was tried on another charge of fraud. His associates were (again) Mr Eccles and also his eldest son Reginald Silva, aged 21. Reginald was aquitted, but John Gomes Silva was sentenced to two years in prison. This is the 'Weekly Times of Melbourne' , 25 December 1880:
The only case to be disposed of was one in which John Gomes Silva, Reginald Silva, jun., and John S. Eccles were presented on a charge of having conspired to defraud Messrs. Walsh Brothers, jewellers, Collins street, of three diamond rings. Mr. C. A. Smyth appeared on behalf of the Crown to prosecute, and Sir Bryan O'Loghlen and Mr. R. Walsh defended the prisoners. The evidence for the prosecution was to the effect that, on the 23rd September last, the prisoners J. G. Silva and Eccles called upon Walsh Brothers, and the former purchased a diamond ring for £70 on the pretext of presenting it to the latter prisoner. £15 was paid in cash, and a cheque was given on the Bank of New South Wales for £55, which was accepted by Mr. Walsh, as he had known the elder Silva in former years as a prosperous merchant in the city. Before the bank opened next morning, Silva redeemed the cheque by substituting cash for it. He then expressed a wish to purchase a diamond ring for his wife, and after some further transactions, succeeded in obtaining two rings, valued at £65 and £85, repectively, for ten minutes, to show to Mrs. Silva. He did not return, but the following morning, young Silva visited Mr. Walsh, and said that he thought his father would keep the rings, and at the same time obtained a ring for £25, on the pretext of inducing his father to purchase it for him. Eccles was connected with the affair by a statement made by the elder prisoner, which showed that a conspiracy had been formed to defraud Mr. Walsh. After hearing the Evidence for the prosecution, his Honour ordered Reginald Silva to be discharged, as there was no evidence of conspiracy against him. The jury found the other prisoners guilty, and J. G. Silva was sentenced to two years' imprisonment. Sentence was deferred in Eccles's case.
In December 1886 Kate Gomes Silva prepared her will. Her address was now Cromer Villa, St Mark's Road, Notting Hill, London, and she is described as
.. the wife of John Gomes Silva who is now and who has for some years past been residing in Australia ….. Whereas for upwards of fifteen years my husband the said John Gomes Silva has lived apart from me and has in no way contributed to my support or maintenance or that of my children, having during the aforesaid period been entirely supported by my father the late Isaac Moses Marsden …"
On 6th December 1888 Kate Gomes Silva died, aged 57, at her home Cromer Villa, Notting Hill, and was buried at Willesden.
In 1894 John Gomes Silva died in the Newtown suburb of Sydney, New South Wales.
When my parents married in London in 1940, several of the children of Kate and John Silva were invited to the wedding: Zillah (11 Pandora Road, London NW6), Maud, Mortimer, and Myra (Mrs Myra Oppenheimer, 11 Kingscroft Road, London NW2).
Death of Edward Silva White (1854-1888) in Glasgow
In 1877, 6 years after the death of his first wife Julia, and when he was aged 49, Edward Fox White married the 26-year-old Margaret Mackenzie. Born in Edinburgh, Margaret was scarcely older than several of her step-children, including the 23-year-old Edward Silva White.
In 1878 Edward Fox White opened the North British Galleries at 44 Gordon Street, Glasgow, which was run by his son Edward Silva White. In 1880 Edward Silva White opened The French Gallery, at 161 West George Steet, Glasgow. By June 1882 the younger Edward "announced his intention to move to London due to the failure of his George Street gallery", but he remained in Glasgow and in 1885 went into partnership with his younger brother Eugene Gomes White at 104 West George Street.

"E. & E. White specialised in modern French art, but also gave exhibitions to young Scottish painters such as James Patterson". (Vivien Hamilton, "Millet to Matisse: Nineteenth- and Twentieth-Century French Painting from Kelvingrove Art Gallery, Glasgow", 2002.)
The business of E. and E. White continued in Glasgow. In March 1887 they mounted an exhibition at the Manchester Exchange, and in May 1887 they presented "Golgotha" (or "Christ on Calvary") by the leading Hungarian artist Mihály Munkácsy at the Glasgow Institute of the Fine Arts, which by July had been visited by half a million people.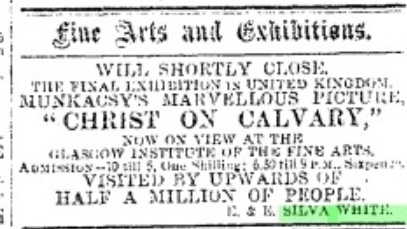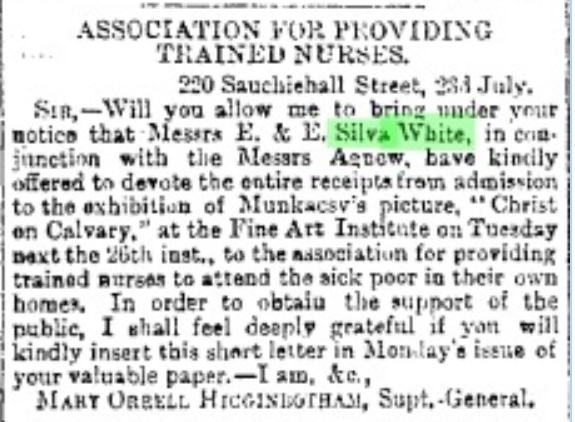 As well his brother Eugene, another brother Arthur Silva White, a founder and Secretary of the Royal Scottish Geographical Society, was living in Glasgow from around 1884 and in January 1888 read a paper on "The Antarctic Region".
In July 1888 Edward Silva White died aged 35. His death was clearly unexpected, as announcements included "friends will please accept this intimation". Anne Stockill believes it may have been a suicide.
Edward Silva White died at the time of the first International Exhibition in Glasgow. The art world of Glasgow at this time is the setting for the 2011 novel "Gillespie and I" by Jane Harris.
Second marriage of Edward Fox White (1877-1900)
At the 1881 census Edward Fox White was aged 53 and his second wife Margaret was 30. Their London address was 57 Lexham Gardens, Kensington, but they also had a country house Thursley Hall, Haslemere, Surrey (where they were recorded at the 1891 census). Their first child, William Braid White, had been born in Haslemere in 1878, and their two other children, Margaret and Gerald Fox White, were born in London around 1882 and 1883.
Regarding the eldest child of Edward and Margaret Fox White, I have received the following information from Rex Lawson of pianola.org:
William Braid White (1878-1959) emigrated to the USA in 1896 and lived in Chicago for the rest of his life. He was the main expert on pianos in the first half of the twentieth century. He wrote many books and for many years was the Technical Editor of Music Trade Review.
On the first day of the 20th century Edward Fox White (aged 72), widower of Julia White, died in London. This bootmaker's son who had become surveyor and then art dealer left £25,705 (equivalent to about £2 million today).

Death of Esther Moses Marsden (Gomes Silva) 1908
In the 1901 census Esther, aged 75, was living in Hove with her son Stephen Leopold (42) and daughters Beatrice (35) and Ida (32) - plus seven servants. 1902 Stephen Leopold Marsden married and moved back to Kensington, in fact to 53 Lexham Gardens - a few doors away from the houses (at 57 and 59) associated with Edward Fox White.
In 1908 Esther died in Hove.
Page last updated 13 Sep 2023.