Heinrich Mayer
My great-grandfather Heinrich Mayer (1840 - 1916) owned a kosher butcher's shop in Ingelheim am Rhein, a small town some 57km west of Frankfurt and 18km west of Mainz. He married Katchen Koppel, and they had four children: Alfred (born 1872), Hugo (1873), Helene (1878) and Eugen (1881). My grandfather Alfred and Eugen moved to London as young men, while Hugo and Helene remained in Ingelheim, with Hugo taking over his father's butcher's shop.
Katchen and Heinrich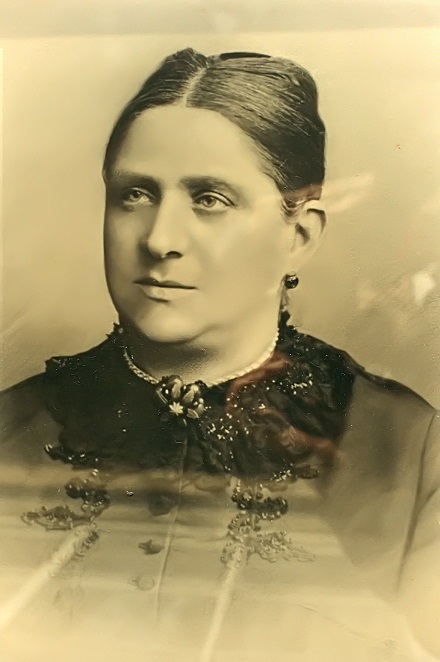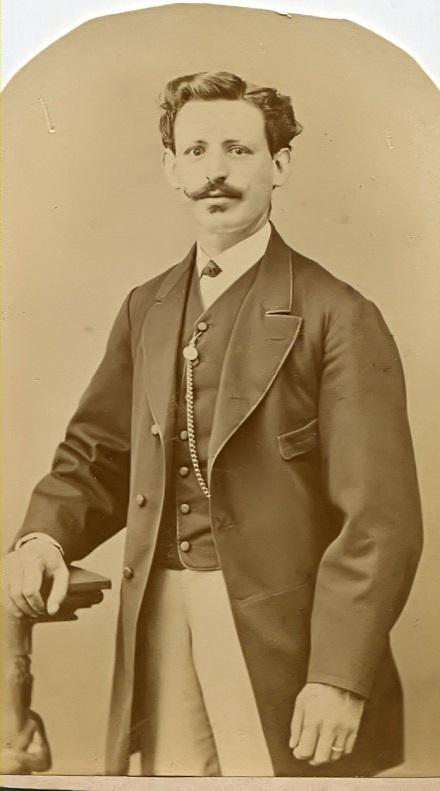 Helene, and photo of the Mayer brothers - including Hugo - in London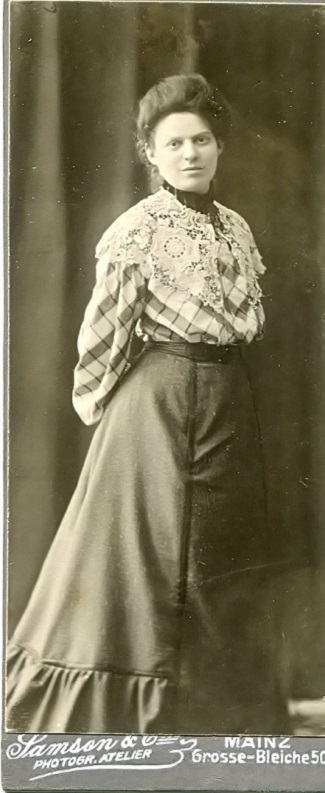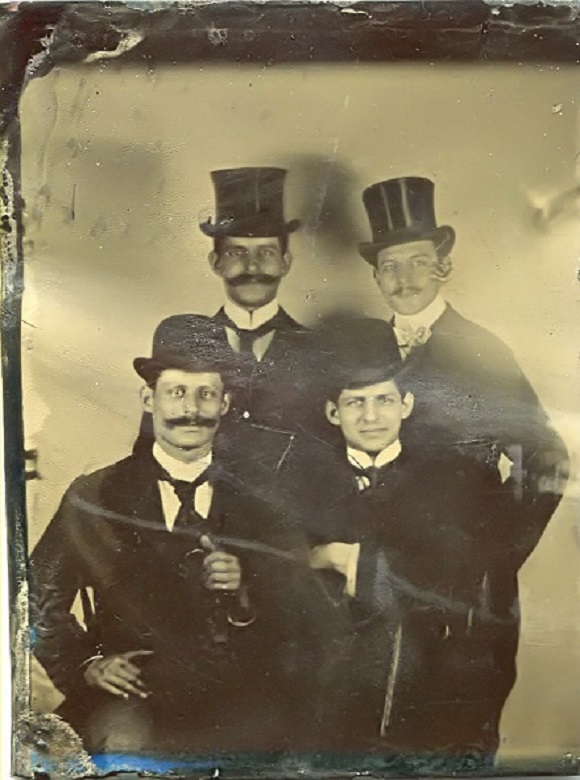 Heinrich; and Hugo's house in Ingelheim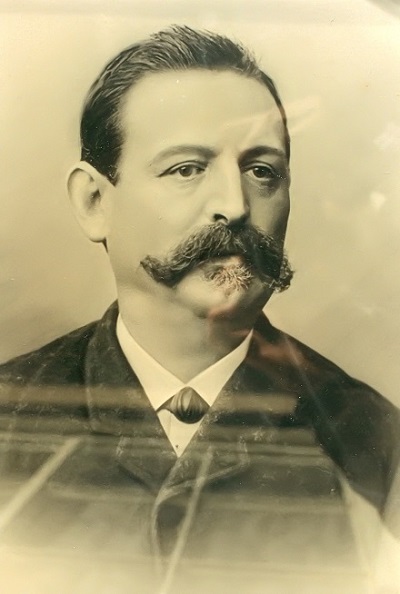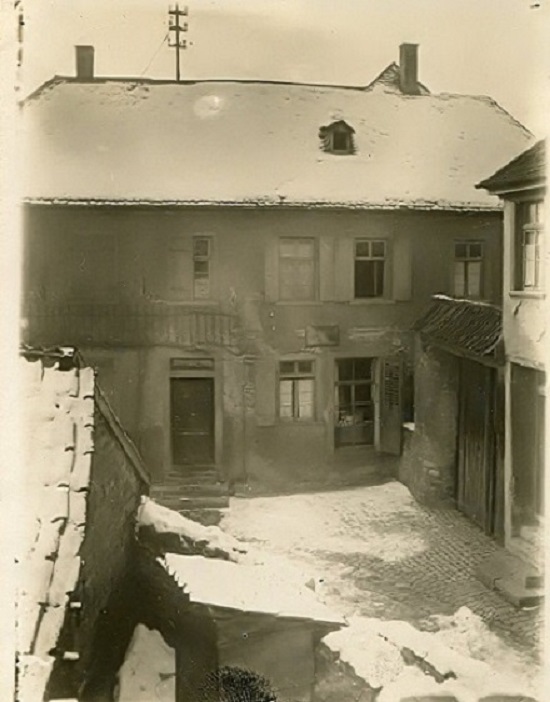 In 1893 Katchen died aged 48.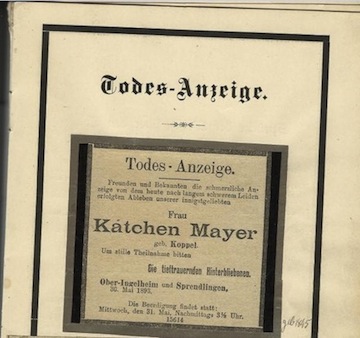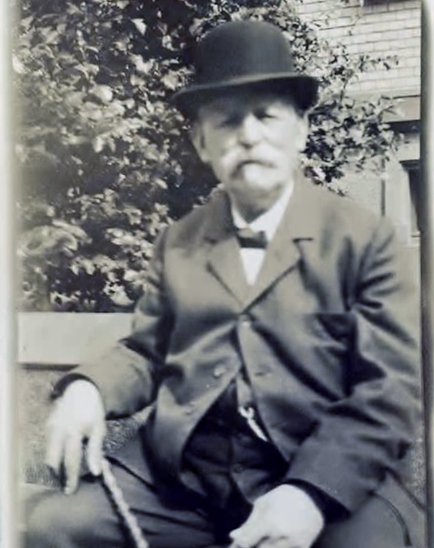 The first child of Alfred and Evelina was born in London on 28th September 1913 and named Ruth Kate (the Kate presumably after her late grandmother Katchen). At the end of April 1914 Heinrich and Helene travelled to England for a four week visit.
London, May 1914. Ruth aged 7 months with her grandfather Heinrich; Alfred, Eugen, Helene, Heinrich and Ruth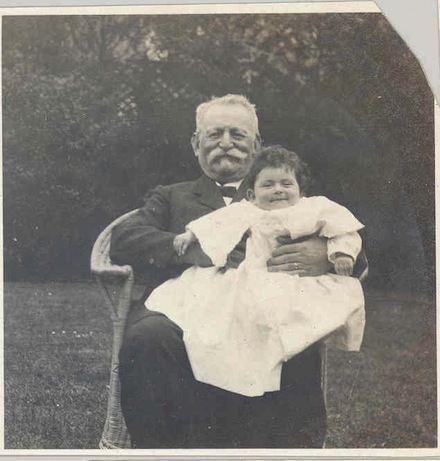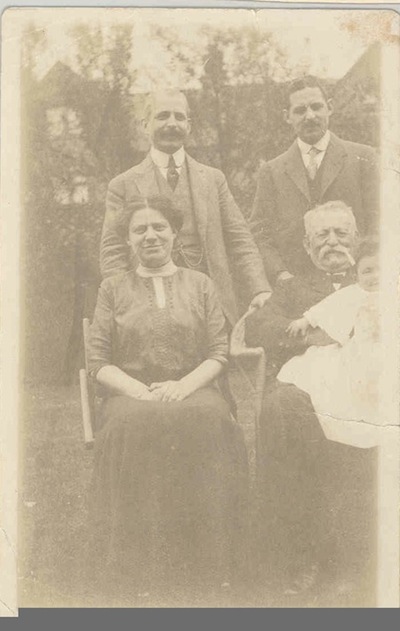 On arrival back in Ingelheim, Heinrich wrote a letter dated 28th May 1914. (See extract below,left. Very many thanks to Mrs Hanna Jones for the translation.)
… Our journey across the Channel was awful, I thought we would not see Ingelheim again. I saw little of the sea because I spent the whole journey in the toilet. Helene was opposite in the cabin, then I heard someone above being sick, it was Helene and it lasted from beginning to end of the crossing, it was horrendous to watch, Helene said 'I will never travel to London again!'

But it is all forgotten now, the pleasure of feeling better lets us forget those miserable hours we endured ….. I must thank you for everything you did for us, your kindness. I can not write it all down, you know me as your father and I am not one for too many words. But I thank you from the bottom of my heart for everything, you dear Evelina especially, I found you to be as I have heard so often, and it gives me peace of mind, I count you to be one of my children. As I write to you, I have the picture of little Ruth on the table in front of me, do give her a kiss from me.

Love for you all and greetings to all relatives. From Grandfather Heinrich.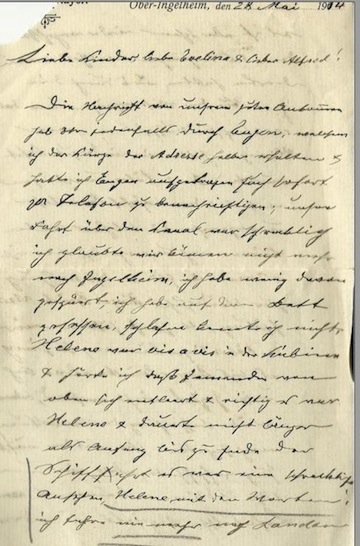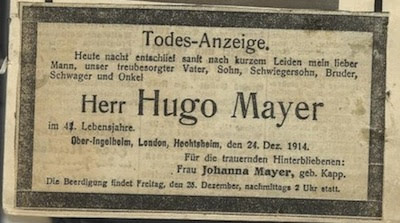 Exactly a month after Heinrich Mayer wrote this letter, on 28th June 1914, Austrian Archduke Franz Ferdinand was assassinated in Sarajevo, and by 4th August Britain and Germany were at war. My mother Nora was born on 2nd December 1914 but she never met her grandfather Heinrich.
Hugo Mayer, the brother who had remained in Ingelheim, married Johanna Kapp (born 1880 in Hechtsheim), and died aged 41 in December 1914 after a short illness, leaving his widow with two daughters, Katchen (aged 7) and Ella (aged 6). According to Nora, Hugo's widow Johanna had a very difficult time bringing up the children and managing the shop alone, especially when the economic crisis hit Germany in the 1920s. Nora also said that Eugen was a very good brother-in-law and that he used to visit her every year and take presents for the girls. He also promised that when they grew up he would have them over to England and find them husbands. When Katchen was in her early 20s Eugen had her to stay with him and his wife Bea in Golders Green for a year. Later on Ella came to stay and a match-making with Ben Courts was successful! In 1935 Ben Courts and Ella had a son Hugh who lives in Stanmore, Middlesex.
When Ella was expecting Hugh they managed to get Katchen (Ella's elder sister) out of Germany. Earlier, when they were first married, Ella's mother Johanna had visited and they had tried to persuade her to stay with them as things were getting so bad in Germany. But as she told Nora at the time "I'm not going to stay because they haven't been married long and they haven't got much money, and I wouldn't be allowed to bring any money over, so I would be a burden on them." So she went back to Ingelheim, and would die in the Holocaust. Nora's cousin Ella said to her once, "we should have insisted more, and kept her here". The Yad Vashem database confirms that Johanna was deported to Treblinka extermination camp in 1942. A brother of Johanna, David Kapp of Hechtsheim (born 1882), was deported at the same time. Johanna's other brother, Karl, born 1885, had died in 1916 fighting in the War. There is more about the Kapp family of Hechtsheim here. About Heinrich Mayer, Hugo Mayer and Johanna Kapp see here.
Helene, the sister of Alfred and Eugen, was saved from the Nazis: she came to England and lived with Eugen and Bea in Golders Green. She never married, died in 1946 aged 68, and is buried in Willesden.
Heinrich Mayer died in July 1916 aged 76.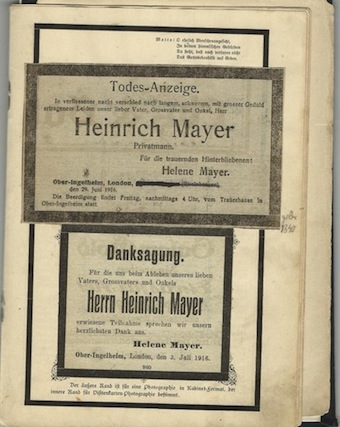 Thanks to Keith Mayer and Hugh Courts for information and photos.
Page last updated 23 May 2018.